This Is The New Kitchen Tool Chrissy Teigen Is Obsessed With — And You Will Be, Too
Target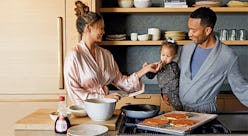 It won't be long before you're up to your eyeballs in holiday planning — whether that means plotting your own festive sit-down dinners with friends and family or tracking down the perfect gifts to give everyone on your list. But in either case, one of your go-to retailers has got you covered with dining essentials and home goods that are as useful as they are stylish, and that's exactly what makes Chrissy Teigen's Target line such a game-changer this season.
Since its launch last year, Teigen's Cravings collection of cookware and serveware has quickly become one of Target's best home goods collections, and that probably has a lot to do with the fact that the mogul has proven that she's a force to be reckoned with in the kitchen (as evidenced by her two best-selling cookbooks). Besides that, she's also got killer personal style that extends beyond her wardrobe: Recently a snap of the Legend family's chic home decor took Twitter by storm, prompting many to consider giving their living rooms a makeover.
It's exactly that combination of function and style that makes Cravings such a successful line — and why certain pieces are quick to sell out. And with the release of a brand new collection of pieces — just in time for the holidays — things are bound to go fast. Just yesterday, Teigen shared an Instagram post featuring one of her favorite pieces among the new drop: A $40 tajine, or conical ceramic pot traditionally used in Moroccan cuisine (although the avid at-home chef was preparing chili in hers). Following that endorsement, it's certain to be a hot commodity.
Teigen also shared sneak peaks of other new products in her stories as well, including condiment bowls, serving dishes, and utensils. If you, too, are someone who loves to entertain — or are looking for hostess gifts for someone you know who does — there are probably a few things you'll want to scoop up before they sell out. Ahead, find 10 of the latest and greatest Cravings goods to help you cook, serve, and gift even better this year. Oh, and they're all under $50.