Try Your Favorite Fall Fruit In This Totally Unique Way For Healthy Holiday Eating
Nina Firsova/Shutterstock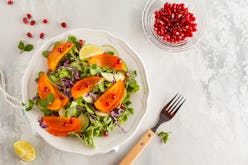 Ever wonder why strawberries in summer just seem to taste better? It's because they're seasonal — and the same goes for all produce. But it also goes further than just intensified flavors: When you're eating seasonally, it's easier to get ingredients that haven't traveled as far. Because of that, they're also fresher and more sustainable. Basically, it's a win-win-win scenario. That said, with so many delicious fall fruits and veggies at your disposal, right now is a great time to try this way of eating if you haven't already.
Read more: Drinking Your Veggies Vs. Eating Them — Experts Weigh In On The Great Debate
Eating seasonal produce is inherently healthy, but there are also a few preparations that can maximize their nutritional value as well as combinations that aren't just tasty, they're even more beneficial. And that's especially helpful to note if you've been stuck on the same pumpkin or apple pie or butternut squash soup for your fall go-tos. Sure, those fruits and veggies are great, but there are a whole lot more you may not have considered stocking up on — plus some creative, nutritionist-approved ways to utilize them.
Cara Clark, nutritionist and healthy recipe developer at Cara Clark Nutrition, is a big fan of adjusting your recipes to suit the season. "Some of my favorite things about entering a new season are the changes of food and produce," she explains. "Falling into winter represents one of my favorite food seasons. I always think of roasted root veggies, deep burnt oranges and reds and lots of warm soup and stews. Oh, and the apples couldn't be a better addition to any food." Looking for a few specifics to try? See ahead to find 11 fruits and veggies to grab during your next trip to the market, plus some new and different ways to try eating them.
Kale
Yes, the dense leafy green that once was a trend is here to stay — and it's in peak season now. But if you're bored of creating the same old kale salads or looking for something more inspired than simply adding it to a pilaf, try using it in a simple pesto. Add some nuts or seeds, fresh basil, garlic, lemon, and olive oil and pulse until your desired consistency. Then serve it with pasta, in a dressing, on top of roasted veggies, or whatever.
Cabbage
This time of year it's hard to beat a rustic soup, and cabbage — which is high in vitamins C and K — is perfect in these types of dishes. It's also a great way to use up other veggies you've got laying around.
Squash
"Give me all the squash — sweet or savory," says Clark. "Our Healthy Holiday Challenge is filled to the brim with recipes that include seasonal squash. A few of my favorites to make this time of year are pumpkin dip, stuffed acorn squash, and more." The festive fruit (yes, it's actually a fruit) also happens to be loaded with fiber, potassium, and is said to be good for digestion. Plus there are so many nuances in the various types. Some to try and compare include delicata, kabocha, acorn, and of course the classic pumpkin and butternut varieties.
Brussels Sprouts
"Brussels sprouts are another of my favorite fall and winter foods," says Clark. For a super simple salad preparation — as opposed to the more traditional way of roasting them — she suggests trying your Brussels shaved and drizzled with avocado oil and maple syrup.
Chard
Bored with kale? Swap in this similarly vibrant and dense green. Chard is loaded with calcium, magnesium, iron, and tons of vitamins and it also makes for a great gluten-free wrap alternative. Just add veggies, grains, and/or protein of your choice. You can also try this recipe as a jumping off point.
Sweet Potatoes
For a healthy junk food swap, whip up a baked version of fries with these beta-carotene-rich tubers.
Turnips (& Other Root Veggies)
Root veggies like turnips, parsnips, rutabaga, and even kohlrabi don't always get the love they deserve this time of year, when they happen to be at their very best. If you're new to these veggies — which are typically high in vitamins like A, B, and C — try simply roasting them with a drizzle of your favorite oil and sea salt. You can also sneak them into your mashed potatoes (or sub for them completely) for extra nutritional value.
Pomegranates
You've probably enjoyed a splash of pomegranate juice in your juice or smoothie in the past, or just snacked on the seeds on their own. But if you're looking for a more creative preparation, there's no better inspiration than Middle Eastern cuisine, which utilizes them heavily. For a super simple, savory way to try them, just sprinkle the seeds on your hummus or baba ghanoush. This will add a boost of antioxidants, not to mention color and texture.
Apples
There's always apple pie and other sweet treats to try this time of year, but Clark offers a totally different way to enjoy the fruit for fall: soups. Add some to your pureed pumpkin, squash, or carrot soups for a little extra sweetness — plus the benefits of fiber and antioxidants.
Persimmons
Stumped with what to do with the other orange fall fruit? A simple kale and persimmon salad might be the perfect use. Just slice (try the firmer, apple-like Fuyu variety) and add to shredded kale (or your favorite salad green), add toasted nuts and a crumbly cheese. Like apples, persimmons are high in fiber and vitamins A and C, plus they're naturally sweet.
Grapes
You can snack on fiber and potassium-rich grapes on their own or throw them in a salad, but for a whole new way to give this fall fruit a whirl, try roasting them and adding to a crostini with goat cheese and a sprinkle of fresh herbs. It's a perfect appetizer for your next holiday party.