This $20 Throw Pillow Is An Affordable Way To Try The Faux Fur Trend In Your Home
Alena Ozerova/Shutterstock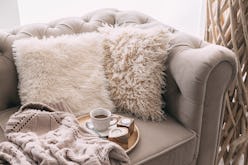 No matter what the calendar or the temperature outside is indicating, many peoples' minds are already switched over to fall mode, which means pumpkin spice has likely made its way into your coffee drinks (among other places), you've already wish-listed a few autumnal wardrobe pieces (lots of cashmere), and you may even be considering a few subtle home updates that will have your space feeling decidedly more seasonal. And if the last option sounds up your alley, a few faux fur decor accents might just do the trick — and they're actually a whole lot more affordable than you think.
Just as is the case in the world of fashion, faux fur is one of the key textures that will bring fall into your home as well. So just as you'd incorporate, say, a fuzzy leopard print coat into the mix to feel more warm and cozy for the season, you can find similar pieces that have that effect on your living room, bedroom, or anywhere that could use a little autumnal oomph.
One of the best things about going faux as opposed to shopping real fur — besides the sustainability and ethical factors — is that you can also find plenty of pieces for affordable prices. A little goes a long way, so something as simple as a throw blanket or pillows could be all you need to bring on the fall feels.
And beyond changing up the mood, such textiles are also an easy way to make an otherwise basic piece of furniture look a whole lot more luxe. For example, toss some faux fur chair cushions on the seating at your kitchen or dining table for an instantly cozy table that will make your next dinner party all the more chic. Or spruce up that second-hand couch by throwing an animal print throw over the back or side for a sumptuous feel that makes is so much more welcoming (Hello, cabin vibes).
If this sounds like exactly the home update you're craving for fall, see ahead for 10 examples of faux fur accent pieces that will transform your pad into the ultimate autumnal escape — and they're all under $40.
Placed next to your bed or under your coffee table, this best-selling IKEA rug is a simple and affordable way to introduce a bit of faux fur.
The blush color is neutral enough for any season, but the shaggy texture makes this throw pillow just perfect for fall and winter.
Cozy up with this charcoal-colored throw from Pottery Barn and you might have a have a hard time leaving your bed or couch.
Removable pillow covers make trying out trends even easier. Enter this faux-shearling option from West Elm that's just $15.
Transform your kitchen or dining chairs in an instant with these tie-on cushions.
Love leopard? Then this chic throw pillow from T.J. Maxx is a must.
Drape this deliciously soft throw at the end of your bed to give it a bit of fall-friendly texture — then snuggle up with it at night for a totally dreamy night's sleep. After all, experts say fabrics can make a big difference.
This golden color is said to be one of the biggest home decor trends for fall.
Got a fireplace? Nothing feels more quintessentially seasonal than curling up beside a fire on a fuzzy, faux fur rug. Add a Hot Toddy and you're all set.
Add a touch of animal print to your couch or bed with this luxurious snow leopard throw.