This Is The It-Color In Interior Design For The Fall Season
Image Source: Sixpenny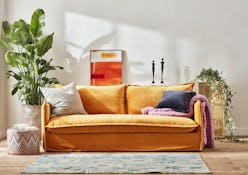 Traditionally, autumnal home decor is synonymous with rich shades reminiscent of ready-to-pick apples, crackling fires, and pumpkin spice lattes. But this year, there's a new fall color that interior designers are swearing by: cheery, yet sophisticated golden yellow.
While the sunshine-y hue is often associated with summer, it can seamlessly transition your decor into fall (and beyond). The trick here, according to the pros, is to mix it with accents that make it relevant to the season. "We started to see a big influx in golden yellow's popularity on Chairish in Summer 2019, and from our vantage point, the trend is only getting bigger," says Anna Brockway, president and co-founder of the online vintage furniture retailer. "Golden yellow is a color that works across seasons and packs a punch whether it's in a small decorative accent or large, show-stopping piece."
And although it's hot this year, Jodie Fried, co-founder of Armadillo & Co., which sells socially responsible rugs, points out that the shade is truly timeless. "The hue's warmth really translates across the seasons," she says. "It has the vibrancy of a sunset that can feel bright and summery, but come fall, the velvety undertones can be remixed for a cozy, alluring ambience."
Ahead, designers share their top tips for adding a radiant splash to your home this fall. Whether you're looking for a few small accents to pop against a neutral backdrop, or you're craving a big, bold statement for your space, these ideas will help you embrace the trend as the leaves begin to change.
Start With Small Touches
For those with a tendency to gravitate toward neutrals, the thought of adding a pop of yellow to your home may be intriguing; and a bit daunting. "If you're shy about yellow, start by bringing it in through small touches — a vase of tulips, a bowl of lemons, a set of linen napkins, beeswax candles," suggests Rebecca Atwood, a textile, wallpaper, and home goods designer. "Notice how you feel about the color and which versions feel best to you. You might decide you like yellow in your kitchen but not your bedroom, or vice versa."
Fried adds that "Incorporating golden yellow through a rug is the perfect way to inject some drama without the commitment of a fresh coat of paint." Other non-permanent accents include decorative pillows, throw blankets, curtains, vases, or some affordable artwork to freshen up your accent wall.
Pair It With Other Autumnal Hues
As for making yellow feel especially festive, the key is to complement it with other seasonal hues. "For fall, we suggest pairing golden yellow with muddy blues, grays, and magnolia greens," says Brockway.
Sally Pottharst who also co-founded Armadillo & Co., also gives some unexpected — but genius — advice. "Treat it like a neutral," she says. "It pairs really well with other pops of bijoux color, like teal, eggplant, and forest green, but can also be quite elevated and subtle amidst lighter tones of lilac, pistachio, and terra cotta."
Incorporate It Into Patterns (Then Mix The Motifs)
Another tip for trend-dabblers is to pick up pillows, rugs, curtains, even wallpaper that incorporates yellow into design — then have fun pattern-mixing.
"Think quirky and untraditional, like the modern paisley and jacquard motifs that are popping up in wallpapers and soft furnishings," says Pottharst. "This season, designers are going all out with retro colors and patterns-on-pattern that throw back to the 70s. A golden yellow accent is perfect for layering with maximalist prints, indoor greenery and charming Tuscan-style ceramics — it is that one grounding element that pulls together the whole room."
Go Big Or Go Home
If you love a big bold color, embrace the maximalist trend by highlighting the hue in your next big decor purchase. Because this versatile shade is more of a statement than a passing fad, Brockway recommends investing in a piece of oversized art or a statement couch to brighten up any room. After all, designers agree: Golden yellow transcends seasons.
"Yellow is a great transitional color because it can read sunny and happy — think lemons, yellow umbrellas — or rich and luxurious for fall; think autumn leaves, brass candlesticks, and ochre hues," says Attwood. "Just by changing what other colors you pair it with it can be very versatile."