These Blackout Curtains From West Elm Will Help You Hit Your 8 Hours Of Sleep
Photographee.eu/Shutterstock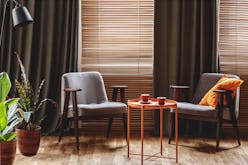 There are some items to shop for in your home that you know will give you instant visual gratification: a vibrant art print or a curvaceous, sculptural accent chair for example. Essentially, these are pieces that exist solely to give a space strong aesthetic value and a bit of drama. Other decor pieces are a bit more practical, which makes them arguably a little less fun to hunt for. However, with some pro tips in mind, there's no reason some of those kind of pieces can't be of equal aesthetic value than the aforementioned ones. To prove this case, some of the best blackout curtains will not only help you get a better sleep, but actually look pretty great, too.
Besides taking a nighttime shower and all the other pill-free things you can try to get a better sleep, blackout curtains — as the name implies — help keep unwanted light from coming into your room, therefore giving you more of an uninterrupted rest. That said, they can often be misconstrued as a not-so-glamorous decor element. But that doesn't have to be the case, according to top designers like Julie Massucco Kleiner of Massucco Warner Miller and Abby Pendergrast.
Once you know where and what to look for, blackout curtains can be just as chic and decorative as Moroccan area rugs, baskets, and pretty much anything Living Coral. Just like those pieces, they can add color and texture to your space — but with the added bonus of keeping brightness at bay. But if you're still not sold on the idea, Kleiner can relate. "Ten years ago, the blackout lining on the market was very stiff, think plastic shower curtain liner, which doesn't give the drapes as luxurious a feel or drape," she explains. "Now, there are synthetic fabrics that drape much more beautifully, and feel much more like a standard cotton interlining but do the job of blackout." And Pendergrast agrees with this sentiment. "Blackout curtains have come a long way - I'm loving them in rich jewel-toned velvets for a chic way to keep the sun out," she adds. So if you're worried about the fabric and feel, just know that there are are a ton of stylish, modern versions available nowadays.
Blackout curtains can be sold as a single opaque panel of material, but you can also find the option of other fabrics with added lightproof liners via some of your favorite home decor retailers. In terms of the later, you'll want to look for a luxe, sturdy material — even when you're using a blackout liner. "Look for a fabric that has a very dense weave but is not stiff — think wool flannel, some heavier linen, and even some heavier cottons," suggests Kleiner. "The weight of the face fabric will be as important to the overall look and the way the curtain panels drape when they are hanging."
And besides the fact that blackout curtains don't necessarily mean cheaply made, stiff fabrics, they also don't have to be ho-hum. "Adding fun details and trims makes them seem less stuffy and are perfect for kids rooms," notes Pendergast, who recently put the finishing touches on a nursery she styled with a pop-pom trimmed style sourced from none other than Target. You can also create a more expensive look by pairing your blackout curtains with more lightweight ones. "Layering woven styles with sheer drapes makes an easy and textured look," she notes.
As for where to shop, let's just say you've got plenty of options depending on your budget. "We find it hard to source ready-made draperies that come close to matching the beauty and quality of custom-made draperies," explains Kleiner. "That said, you can think outside of the box and look at such sites as Etsy, where a lot of smaller workrooms might be a good option in lieu of buying ready-made retail curtains." And if you're trying to save some cash, you can find loads of styles at your go-to decor shops, like West Elm, Pottery Barn, and even Overstock.
One pro tip you might not otherwise be keen on involves the hardware you'll need to purchase in addition to whatever curtains you end up using. "Keep in mind that blackout drapery panels will weigh more than say a sheer or unlined retail linen drapery will, and make sure you have adequate hardware on which to hang, Kleiner mentions. "We like a very simple metal rod with a French return (no finial sticking off the end, rather, the curtain rod makes a clean return back to the wall on itself)." Additionally, to get that professionally styled, expensive look, don't skimp on length. "We are never a fan of drapes that don't quite reach the floor — looks like short pants to us!" she adds. "Make sure the curtain panels break just on the floor, with a scan of half an inch of fabric […] much like the break of a tailored men's suit." With that intel in mind, look ahead for seven stylish blackout curtains you can buy now that will make you rethink this functional decor item.