The Trendy Print That's Perfect For Your Home Decor
Athi Aachawaradt/Shutterstock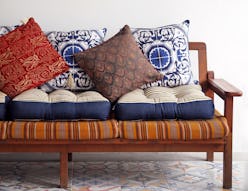 There are certain pieces of furniture and decorative accessories that are versatile enough to get mileage out of for years to come: a neutral, clean-lined sofa or a classic leather armchair, for example. But chances are that even with such timeless items in your home, you're bound to get bored — and that's where knowing the latest trends can come in handy. Regardless of whether you're a diehard follower of what's new and next, it can be fun to switch things up in your space by playing around with buzzy colors and patterns — and using trendy home decor prints might just be the thing you've been searching for to spruce things up in time for spring.
No matter if you're a minimalist or maximalist, trends are something that are a lot easier to incorporate than you probably even realize — and that's because they can be as subtle or as bold as you like. For example, if decorating with acrylic seems intimidating but is something you want to try, just start with a small piece. Or if you want to inject from of the hottest spring colors into your home, you can make a statement with something dramatic like a sofa in the shade, or just accessorize a bit with textiles for a less-is-more approach. And the same applies to working with the trendiest patterns for spring.
As the team behind New York-based design firm Hackett Interiors, Meghan Hackett-Cassidy (Founder and Lead Designer) and Erin Hackett (partner and Project Manager) have mastered the delicate balance of staying current and modern while creating a space that looks chic longer than just a season. That said, they've got their eye on some key prints that are perfect for freshening up your home this spring — but are classic enough to showcase year-round. Ahead find, their three current favorites, plus how you can make them work in your home regardless of your decor style.
Chinoiserie
The runway isn't the only place you'll be seeing the chinoiserie trend. "We highly recommend incorporating chinoiserie patterns into the home for spring, as you can achieve the femininity that comes with the season," Hackett-Cassidy shares. "This pattern is the perfect addition to a more simple or neutral base, whether that be an all-white bed or a softer sofa or chair. This pattern is also a fun way to incorporate a pop of spring into accessories such as pillows."
Trellis
More bold and geometric than the aforementioned print, trellis is one that may be even more versatile for home decor. "The pattern itself is rather classic and traditional, which means it will never go out of style and can be incorporated into a variety of spaces," Hackett says. "We love the interwoven effect of the pattern that adds dimension to anything it is used on. For spring, look to use this pattern in emerald green — very exemplary of an actual trellis with vines and flowers growing on it." In addition to playing this print in textiles, you can also try it out as a dramatic wallpaper pattern.
Chevron
Chevron might seem a bit more tried-and-true, but according to this design duo, there's a reason you might be seeing more of it this season. "Chevron can really refresh a room with its zig-zag pattern and high energy effect," explains Hackett-Cassidy. "We like a softer and more subtle chevron pattern with smaller details and various shades. If you're looking for a quick way to add a pop to your space, this is a fun option and it doesn't have to be implemented into something too large to have a big impact." A great example of doing a chevron print in a fresh, modern way is this handmade rug from West Elm, which puts a twist on what's otherwise traditional.