These Bath Towels From Zara Will Give Your Bathroom The Perfect Spring Upgrade
Zara Home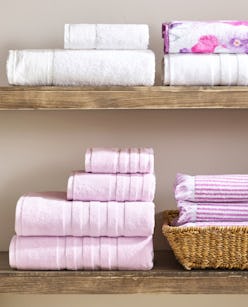 When you're on a budget, it can feel impossible to think about taking on tasks like home decor improvements. But you don't have to spend a lot of money to create impact or just freshen things up — once you know the right pieces to invest in. That said, textiles can be a highly underrated accessory, as they're simple to switch up when you want to change the mood of a room and they're easily found at affordable price points. Take your bathroom for example: Some of the best bath towel sets are under $100, and they can make your space feel spring-ready in an instant.
There are a lot of quick fixes for giving your bathroom a makeover without overspending, from finding decorative pieces that pull double-duty by keeping small items organized, to simply changing the paint color or applying trendy wallpaper. But just picking up a fresh new set of towels can sometimes be just the thing to give your bathroom decor the spring vibes you're craving this time of year.
Maybe it's simply brightening things up with a classic white set, or maybe trying out one of the biggest seasonal color trends can give you the effect you're looking for. You don't even need to stick to solid shades to give your bathroom a little refresh. Interesting prints and patterns can prove just as impactful as any punchy shade (especially in seasonal favorites like polka dots and gingham). And, of course, if you can't decide between solid, stripes, or plaid, just go with all of the above and give the room an unexpected spin.
Regardless, there's no need to pay an arm and a leg when shopping for towels. You can save money without sacrificing style and quality if you know where to look. Plenty of retailers and brands are offering stunning textiles at very reasonable prices.
Of course, old standbys like Target and Overstock are always reliable for finding a deal on practically anything in your home — no matter how seemingly specific! But brands like Onsen and Nutrl are smaller, buzzworthy e-commerce brands that offer high-quality Supima cotton towels for less than a lot of their competitors, and they come in classic, neutral palettes. Even West Elm offers GOTS-certified cotton options for those looking for organic, natural fabrics and for a set of four you'll still land under the $100 mark. Also, don't discount Urban Outfitters as a great place to find chic but affordable sets, too. And with its chic partnerships with the likes of Lauren Conrad, Kohl's does its fair share of serving up some decent towel inspo.
Much like changing your bedding for the new season gives your bedroom an instant makeover, your bathroom towels can do the same. And if lack of funds was stopping you from searching for just the right ones for your space, there's good news. Ahead, find 10 sets — ranging from clean-and-classic to more colorful and whimsical options — that just might give you the renewed look you're craving. And the best part? They're all under $100.