CB2's New Arrivals Mean You Can Finally Get Your Tiny Bathroom In Order For The New Year
CB2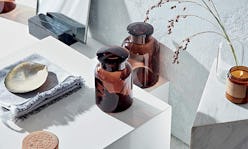 A new year can make you motivated to finally tackle those projects that were put on the back burner in 2018. Case in point: Sorting out how to find more space in a bathroom that feels like the size of a postage stamp. Though the less-than-desirable dimensions may seem like they could prevent you from reaching your dream spa set up or simply just a space you can comfortable move in, all hope is not lost. One scroll through CB2's new arrivals provides several chic small bathroom organization ideas that'll not only whip your space into shape, but will make it a place you may actually enjoy spending time in.
If you often find yourself tossing towels over the toilet or draping your robe on a door handle, then the first item you'll want to shop is the 3-Prong Swivel Towel Hook for $29.95. Instead of taking up more of your minimal wall space with a large rack, this compact family of four sturdy hooks with three movable arms will allow you to neatly hang your plush bathroom essentials with ease.
Lack of counter space? You don't have to tuck all your products under the sink. Instead, mount a soap dish like this geometric brass style, $29.95, and add a multi-purpose shelf, $99.95, over your toilet to hold your daily essentials as well as facecloths that can hang through the rods.
It's hard to feel relaxed soaking in the tub when all you see around you is clutter. And, the frustration you feel when bottles of shampoo and conditioner keep falling in among the bubbles doesn't really provide for a peaceful experience. If this sounds like you on a Sunday night, then you'll want to shop the Live Edge Charred Bath Caddy, $79.95; its adjustable track along the bottom allows it to fit in tubs of all sizes. Place the teak caddy across the width of your tub and add your must-haves as well as a calming scented candle — you'll be feeling more zen in no time in your tiny bathroom.
Though your space may be small, don't let the size prevent you from keeping it both stylish and functional. Continue on to start shopping items that'll help you create a bathroom that'll not only scream organization, but also really wow.