The One Piece That'll Make Your Bathroom Your New Favorite Room
Urban Outfitters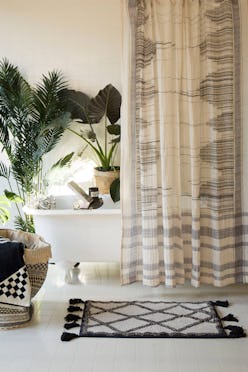 When it comes to giving your pad a little refresh, one of the rooms that typically gets looked over is the bathroom. And it's not that this room isn't important — after all what would a home really be without one? — it can just be tough to redecorate, particularly for those on a budget. Many people assume that revamping your loo involves some major overhauls, like installing new tile or fixtures, but you can actually make major impact with minor tweaks via some affordable bathroom decor that's as chic as it is easy on the wallet. You just have to now what to look for.
Los Angeles-based interior designer Kaitlin McHugh of Kait Joseph design studio, who's known for her modern bohemian style, agrees that everyone's bathroom is deserving of a little extra love. "The bathroom is often overlooked as an important aspect of interior decor, but I find it to be one of the most rewarding beautification efforts," she shares. Why, you ask? Because you're probably spending a lot more time in there than you realize. "The bathroom is a sacred space where we begin and end each day, a small room which enables decompression and allows us to relax, recenter, and ultimately refresh." That said, why not make it a more enjoyable experience aesthetically?
Given that bathrooms are, as McHugh says, "due the same decor respect as the rest of your home," perhaps it's time to give yours a little upgrade. Ahead, find a few of the interior guru's top tips for pieces that can give you a budget-friendly update — and, as a result, make your daily routine a bit more beautiful.
Luxe Linens
McHugh suggests upgrading your linens (like your towels and bath mat) to elevate your bathroom decor instantly. As she explains, this simple addition is "a quick and easy way to add warmth, texture, and pattern." And there's no need to spend a fortune to find some that feel and look luxe.
Shower Curtain
"If your shower requires a curtain, an upgrade of this textile has a substantial return on investment, as it covers a tremendous amount of visual surface area," shared McHugh. Whether you want to use your shower curtain as a work of art, or find one that's versatile with the other elements of your decor, shop for a style in a material that's both beautiful and durable.
Shelving
"Shelves excel at showing off some of the interesting or beautiful objects that you may already own — like the bottles of your perfume collection," offers McHugh. And beyond being pretty, they're a practical and easy-to-install storage solution.
Caddy, Bench, Or Stool
If you've got the space for it, a stool, bench, or bath caddy can be a tool to add more personal touches to the space. As McHugh explains, "A stool for beside the bath will elevate your product and keep all of your essential self-care items — a book, candle, jar of Epsom salts — within reach." As for what to look for when shopping for such pieces, she suggests finding something with "a unique form or made of a sensual material for greater interest."
Plants
"A little green goes a long way in the bathroom," offers McHugh. "Plants help to literally refresh the air and visually enliven the environment." And if you're short on space, start with a small succulent or clipping that's easy to care for and can fit in nicely. "Any small vase, pottery, or glass bottle will fit neatly on your newly installed bracket shelves or on the vanity countertop," McHugh says.
Mirror
Have an outdated or unappealing bathroom mirror? That's a simple fix. "A vintage mirror, especially with a patina'd frame will add texture and interest," says McHugh, who's an admitted flea market enthusiast. But if you don't have much luck finding an antique option, you can shop many modern solutions with the same feel.
Paint
"Color has a transformative nature," McHugh says. "A modest room, like a bathroom, dressed in a dark, rich color, feels entirely different than the same room possessing bright, light walls." Consider the mood you want to create with your space first, and then find a paint color that helps to convey that.
Art
Art tends to add life and personality to any space it occupies. But something to consider when choosing some for your bathroom is moisture. "Since bathrooms experience shifting levels of humidity — which can effect paper art — choose artwork which is beautiful, but not overly sentimental or extremely valuable," McHugh shares. "There are unique paper treasures to be found at every outdoor flea which can be repurposed to create a handsome bathroom piece."
Candles
Candles are a go-to mood setter, plus a beautiful light source when you're enjoying a beautiful, relaxing bath (which you'll surely want to have in your newly refreshed bathroom). Find one with a scent that's soft and lingering, not overpowering, and in a lovely container.