The 4 Bathroom Decor Trends You Need To Know About, According To An Expert
Virginia Macdonald Photographer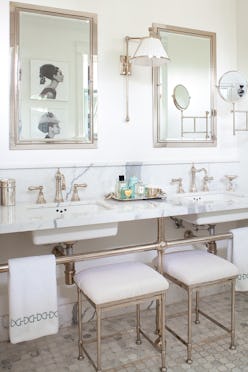 The bathroom is, necessarily, one of the most functional rooms in your house. But that doesn't mean it has to be boring. Elevate your space with these of-the-moment decor trends (read: not spa-inspired) and it'll become a place you actually look forward to spending time. Here, all the tips and tricks you need, courtesy of interior designer Anne Hepfer.
Must-Know Bathroom Decor Trends
Artwork
"The bathroom tends to be the last place considered for artwork and wall decor," says Anne. But it adds personality and can change the mood of the whole room. "For example, the black and white Audrey Hepburn photographs become the focal point and make the bathtub feel luxe," she says.
Pro tip: Choose encased frames so that moisture doesn't ruin your artwork.
Jewel-Box Effect
For a half-bath or powder room, go maximalist. "Small spaces are perfect for lots of pattern, texture and color," says Anne. Her advice for pulling off the glamorous trend: Cover the walls and the ceiling with metallic paint or wallpaper, and add a statement mirror.
Pops Of Greenery
Greenery is one of the simplest ways to update. Try trending houseplants like succulents and the fiddle-leaf fig.
"Flowers, plants and greenery are ideal for adding a natural element to white, minimalist and serene spaces like a bathroom," Hepfer says.
If you're feeling bold slash you can't keep a plant alive, Pantone's color of the year, appropriately named "greenery," makes a gorgeous paint color.
Textured Wallpaper
Wallpaper has come a long way from chintzy floral patterns. "Unique textures like embossed wallpaper, printed fabric on wallpaper or grass cloth are the ultimate statement," says Anne.