The Wrong-Shoe Theory Is The Secret To Making All Your Outfits Exciting
@himichelleli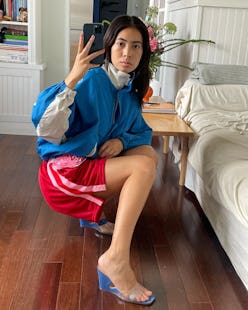 We may receive a portion of sales if you purchase a product through a link in this article.
Some of my fondest childhood memories involve experimenting with my style. Yes, my mom let me get ultra-creative with my lewks, even as outlandish as some — ehh, most — may have been. (A floral print top with zebra leggings? Oh, heck yeah.) And even through adulthood, I've stuck to the mindset that fashion needn't always make total sense. So, when TZR's Senior Social Media Strategist, Maggie Haddad, shared a link to the viral Wrong-Shoe Theory with our fashion team via Slack, I was all about it. Coined by stylist Allison Bornstein, the sartorial hack is, essentially, how it sounds: Opt for unexpected footwear that isn't your first choice as a way to add intrigue to your outfit. Bornstein tells me over email that this could be, for example, trousers teamed with a flip-flop or a maxi skirt and ballet flats.
The author of Wear It Well, which is available on September 26, further explains: "As a stylist who works with people to help them style looks for their daily lives, I'm often problem-solving and trying to help clients figure out how to make a simple look feel interesting or dynamic." She noticed that many felt they needed to stick with a specific vibe when assembling an outfit, such as a sporty top and sneakers or a dress and heels. "I came up with this idea as an easy way to empower clients to try something new and that usually, thinking outside the box will create a look that feels more interesting and less straightforward."
Moreover, while glancing at mood boards for her clients, Bornstein realized that oftentimes, it's the less likely shoe that has the potential to shake up the entire outfit. The fashion insider continues, "While there is never a wrong or right choice when it comes to fashion, this idea is basically just challenging people to push beyond their first instincts and try something that might initially feel different or even wrong to them."
And while the theory is taking the internet by storm, Bornstein says the idea isn't new; designers and fashion buffs alike have been test-driving this playful method for years. Consider Chanel's Haute Couture 2014 show, which featured luxe looks — think bouclé skirt sets and feather-trim gowns — anchored with coordinating sneakers. While hardly shocking today, it was a surprising sartorial mash-up for the time that set the stage for future flouting of footwear rules.
More recently buzzy names like Sandy Liang and Hillary Taymour of Collina Strada have been bringing the theory to life on the runways. Take the former's Spring/Summer 2022 catwalk, which showcased mini dresses paired with Salomon sneakers, later leading to a collaboration with the footwear brand. (The New York-based designer even incorporates the Wrong-Shoe Theory in her own wardrobe, most recently pairing her wedding gown with Merrell slides.) Likewise, Collina Strada was an early adopter of the unexpected juxtaposition, as exhibited by the label's maxi dress and chunky shoe combination in its Spring/Summer 2023 presentation.
Chanel's Spring 2014 Haute CoutureWWD/Penske Media/Getty Images
Sandy Liang Spring/Summer 2022JP Yim/Getty Images Entertainment
Collina Strada Spring/Summer 2023Yuchen Liao/Getty Images Entertainment
Beyond the runways, many a style setter has tapped into the purposely mismatched look. Back in the early 2010s, a slinky pajama and sky-high heel duo was the look du jour, worn by the likes of Jenna Lyons and Sofia Coppola. Who remembers when Coppola graced the red carpet at the 2013 Met Gala in a glitzy Marc Jacobs PJ-inspired set and black pumps? It was a bold move, after all. Meanwhile, Scandi women have become known for their wrong shoe prowess. Thanks to the region's bike-forward culture, residents are frequently spotted in voluminous dresses (think Cecilie Bahnsen's signature silhouettes) and chunky sneakers while wheeling around town.
Christian Vierig/Getty Images Entertainment
Stephen Lovekin/FilmMagic/Getty Images
Not sure how to approach the look? Heed Bornstein's top advice for pulling it off. "I always find that the shoe that might not have been my first instinct is the one I end up wearing because it feels the most interesting." Translation: If you tend to lean toward a tee and jeans with a sneaker, go for a silhouette on the opposite end of the sartorial spectrum, like, say, a Mary Jane flat. "This is something everyone can do no matter your style," she adds.
Ellie Delphine, a fashion influencer known for her playful, adventurous style is also a fan of this styling method. "I apply the Wrong-Shoe Theory and instantly get excited about dressing up again," she tells TZR. "I also love that one outfit can work with several unconventional shoe choices; that way, I get a lot of unique looks." One of her favorite combos includes a sneaker and a dress: "the more frilly and feminine the dress, the better and the more striking the contrast!" For more of the tastemaker's must-try 'fits, check out her Instagram reel here.
While perhaps polarizing to some, the Wrong-Shoe Theory is the ultimate way to flex your fashion muscles. Try it out for yourself by exploring the outfits below.
Tiny Mini Dress + Classic Sneakers
The most obvious (and approachable) take on the viral trend is perhaps a dress and sneakers mash-up. Take a page from Delphine's book and couple a sultry number with sporty Adidas kicks. Then, dial up the drama with gilded gold jewelry.
Athletic Bottoms + Luxe Sandals
Have a HIIT class at 9 a.m. and a lunch meeting at noon? Wear track pants to and from the gym, then swap your workout shoes with sumptuous open-toe slides. Et voilà! You'll look so chic munching on your Sweetgreen salad.
Voluminous Dress + Simple Mules
A billowy puff-sleeve number adds a sense of sophistication to laid-back mules. Now inject a hint of color into the outfit with the help of a colorful sock, be it pastel yellow or neon pink.
Romantic Lace Skirt + Sporty Sneakers
Your lace midi skirt is likely a go-to for special occasions; however, you can also bring it into daytime territory by wearing the bottom with bright chunky sneakers. Throwing a laid-back graphic tee into the mix is a sound move, too, should you want to balance out all the contrast.
Polished Blazer + Cool Cowboy Boots
A blazer and Western-inspired cowboy boot combo is a polished yet playful way to reinvent both classics. And if you're planning to sport the look in the summer? Throw on some loose shorts.