Samba Sneaker Outfits To Try — If You Can Get Your Hands On The Buzzy Shoe
May the odds be ever in your favor.
@aimeesong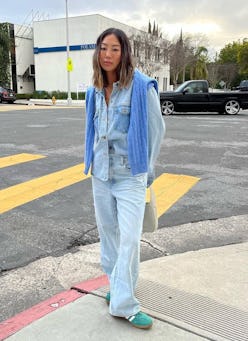 We may receive a portion of sales if you purchase a product through a link in this article.
The next time you're strolling around SoHo — or really, any fashion-forward neighborhood — might we suggest playing a fun little sartorial game? Tally up how many Adidas Samba sneakers you see hit the cobblestone streets. Spoiler alert: You'll lose count. The footwear is taking over everyone's closets, and you have bona fide trendsetters like Bella Hadid to thank for that. If you count yourself one of the lucky ones to have found a pair in your size, you may be thinking about cool ways to style your Samba sneaker outfits this season. Take it from the celebrity set: The sporty silhouette has infinite styling potential.
In addition to Hadid, other loyal Samba wearers include Hollywood darlings like Kendall Jenner, Kaia Gerber, and Zoë Kravitz — to name a few. The shoe's A-list following begs the question: What's all the hype about? Well, perhaps the best part about the shoe is its versatility. Say, for instance, you're looking for a laid-back design to offset your flowy floral dresses once the temps skyrocket. Enter the Samba sneaker. Or, maybe you're searching for a sneaker that isn't too flashy for an office setting? Ding, ding, ding — the Samba is, again, a winner. Adidas' founder Adi Dassler created the classic silhouette back in 1949 for soccer players, but now it's seemingly a hit with everyone.
If the Samba sneaker has finally hit your radar for spring, keep scrolling for seven outfits you can recreate right this moment. And for those who haven't gotten their hands on the shoes yet? TZR did some digging to find a few pairs still in stock.
Double Down On Leather
Good news: 2022's bikercore aesthetic hasn't lost steam, so should you want to test-drive the look this summer, by all means, go for it! In fact, a pair of black Samba sneakers perfectly aligns with the edgy vibe. And if it gets too toasty underneath a leather jacket, simply let the topper drape on your shoulders.
All-White Look
Nothing screams summer quite like a fresh all-white look. One way to go about the breezy outfit? Try a white tee, linen maxi skirt, and, of course, the omnipresent sneakers. Lastly, add a cool hair clip into the mix, and you're set.
Sweet Yet Sporty
Put a dressy spin on the laid-back sneakers via a statement jacket, like a bright furry style. (Or, for summertime, a bold tank will suffice.) Then, opt for your favorite jeans to ground the eye-grabbing look.
Pattern Play
You can never go wrong with a matching set and sneakers, especially in the summer. Should you want to spice up the fool-proof combo, try marrying a patterned set with vibrant multi-color kicks. From there, polish off the outfit with a few gold necklaces.
Sleek Separates
Warm weather warrants you to wear comfortable, durable shoes for outdoor activities, including walks around the city. With its rubber gum sole and leather finish, the Samba fits the bill. Team the footwear with a blazer and leather skirt for a cute dinner or brunch look.
Polished & Playful
Try the sport-meets-prep combination for an intriguing outfit formula that never fails to make a statement. For example, on top, go for a classic trench and cable knit sweater, while for the lower half of your outfit, try a tennis skirt and the Adidas sneakers.
Lean Into Basics
Don't want to take any attention away from your vibrant Samba sneakers? Stick to wearing everyday basics, like a gray blazer, white tee, and light-wash denim. Mission accomplished!