This Summer's Most Popular Colors Will Speak To Every Sort Of Style
Baum Und Pferdgarten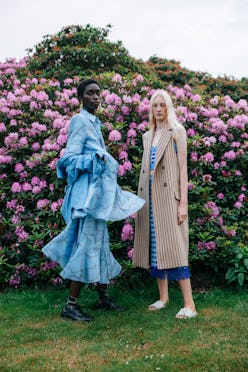 We may receive a portion of sales if you purchase a product through a link in this article.
As you purchase a clothing or accessory item this season, perhaps you are ruminating on which color to buy it in. Do I need another black bag? Does the green dress feel like me? Will this yellow shoe match anything I own? The next time you find yourself in this kind of conundrum, you could phone a friend — or, simply look to summer 2023's biggest color trends for assistance. Once you know what's floating around the fashion zeitgeist, it may sway your decision.
To get you started, TZR spoke with several fashion experts — designers, buyers, and other tastemakers — to gather all the intel on the season's most in-demand shades. A few standouts? "Our customers continue to love neutrals, pinks, and florals," says April Hennig, chief merchandising officer at Moda Operandi. Meanwhile, designer Alejandra Alonso Rojas tells TZR that she's noticed lots of "blush tones, lavender, bright red, yellow, and bright blues," popping up in retailers (like Gap), on social media, and in New York City street style.
The main takeaways here: shoppers are investing in subtle neutrals (you can thank the now viral phrase "quiet luxury" for this one) but also interested in bold, statement-making hues. "I think customers are drawn to color because it's an emotional purchase," says Lucy Akin, founder of Ciao Lucia. Gab Waller, a global luxury fashion sourcer, agrees with this statement, adding: "If the color triggers a positive emotion, they are immediately inclined to purchase that piece." Currently, Waller notes that she's receiving a large number of requests for items that come in blues and pinks. One of her most recently sourced items for a client was a pair of Chanel slingbacks, which gave off playful Barbiecore vibes.
Thankfully, whether you sit squarely in the loud color camp or love muted shades more — or have plans to embrace both this summer — there are countless ways to style your favorites into any outfit. For those leaning into vibrant options, like a fuchsia dress, Akin recommends letting that one piece take the spotlight while sticking to softer tones elsewhere. Meanwhile, designer Sally LaPointe, whose eponymous brand is ideal for making a splashy entrance, says don't overthink the styling and just go for it. "Rock a full color head to toe if that's what you are feeling in the moment. It's about having the confidence to do you," she says.
Now that you've read the CliffsNotes version of what all the industry experts have to say, scroll ahead for the deep dive into summer's top seven color trends. Should a hue speak to you, shop the accompanying products to get the look.
Ocean Blue
Nothing says summer vibes quite like blue. That's because this shade calls to mind restless waves at the beach, your parent's backyard pool, or even the sky on a hot, cloudless day. "Blues are great for any summer event and our [customers consistently] love a floral piece in this color," says Markarian founder and designer Alexandra O'Neill, who offers something-blue every season in her collections. "Pastel tones like the PANTONE 12-4611 Saltwater Slide [for example] speak to a positivism and a kind vision of the future," adds Laurie Pressman, vice president of the Pantone Color Institute, on why this color is having a moment.
Pretty In Pink
The rise of pink for summer can be traced back to the Barbie movie, which drops in July, and to the now iconic runways of Versace and Valentino. "Right now, we're definitely seeing pink as a strong trend [at PatBO]," says the label's founder Patricia Bonaldi. In addition, Lauren Yerkes, chief merchandising officer at Revolve, shares that in conjunction with the aforementioned film, "girls are pushing for all shades of pink" as a way to make a statement with their outfits. "She wants to feel excited about what she's wearing and for others to feel her presence," says Yerkes.
If the monochrome moment from Versace, above, isn't for you, Justine Glanfield, head of womenswear design at CLOSED, has a more digestible styling tip for you. "I recommend using pink for accessories and as highlights while wearing earth tones of beige or nutmeg," she says, on working this color into an outfit so that it doesn't overwhelm you.
Oat Milk
The internet chatter over quiet luxury and IYKYK brands like The Row, Khaite, and Toteme have spurred a re-appreciation for neutrals and understated pieces. "Bloomingdale's customers have been gravitating towards bright colors — neons have been a big trend this season," says Arielle Siboni, RTW fashion director at Bloomingdale's. "On the other end of the spectrum, we are in a minimalist trend cycle, and we are seeing a great response to neutrals because of this. I personally love wearing a pop of neon with camel to combine the two trends."
Another reason why we're leaning into the soothing palette is for practicality. Urangoo Samba, head of color at WGSN, says: "As consumers continue to make considered purchases, colors with practicality, versatility, and long-term appeal come to the fore. Neutrals gain momentum due to their commerciality too," Samba says, adding that oat milk and parchment paper tones are popular choices here for shoppers. "On Google, [the search for] 'beige' reached an all-time high in January 2023," adds Aya Kanai, head of editorial and creative for shopping at Google. "Words like 'beige cargos' and 'beige puffer vests' are the top trending clothing item searches over the past year."
Luscious Red
According to Depop, after Rihanna wore that Loewe look to the 2023 Super Bowl, the search for "red" items increased by 82% on the e-commerce platform. The shade's popularity shows no signs of slowing down, as style experts predict it to take over both your summer and fall 2023 wardrobes. "As fashion moves in a more classic direction, red is perfect because it serves as a timeless accent color," says Marissa Galante Frank, fashion director at Bloomingdale's. "This spring/summer, red is perfect for your coastal wardrobe, and as we move into fall it's the perfect accent for the edgier moto trend we're predicting will also be big."
In addition, the fiery hue seems to have a strong emotional pull on shoppers. Samba says, "This particular shade has a lightness and transiency which feels hyper-real, immersive, and sensory. We have seen the use of this commercial shade as response to consumers craving impactful looks and being key for occasion-led oufits."
Lovely Lilac
Hennig credits the Spring/Summer 2023 runways for popularizing the lilac shade this season. "The color popped up in [so many collections like] Jil Sander, Ulla Johnson, Des Phemmes, and Oscar de la Renta," she says. "There's something alluring about this shade of purple: it's a pastel but still very intense and it's a very feminine power color to me," adds Sarah Evenson, founder of ready-to-wear brand Marie Oliver. "Lilac feels dreamy and soft, ideal for airy spring/summer fabrics."
Speaking to why the hue may capture your heart on a subconscious level, Samba shares: "Lavender is full of hope and positivity. It's a shade that poses that much needed cautious optimism and escapism that people are craving..."
Lime Green
Aside from ocean blue, another nature-inspired hue will catch your eye this summer: lime green. The zesty shade is popping up in bags, ready-to-wear, and shoes. "This color looks great on dresses for special occasions, on cargo pants, and even in jewelry," says Yerkes. "I just wore a beautiful lime green [look] yesterday for a very special event, and I loved it," adds Rojas. Head to her Instagram profile and you'll see that the creative rocked a fun, fringe number to a friend's wedding, thus making lime green a wedding guest-approved look for the season.
Standout Silver
You may assume metallics are only worn for fancy, nighttime outings or in the cooler months, but designers like Nensi Dojaka, as seen above, make a strong case for wearing them year round. You can style that sequin skirt with a plain white T-shirt or even a crisp button-down to make it daytime appropriate, for example. "Silver and metallics in general are not reserved for evening wear," Frank confirms. "A chic and easy way to try the trend is with silver shoes — I love a flat sandal — or wear a fun pair of denim in this color. Let silver act as your neutral."