The One Layering Piece That Can Instantly Transform Your Winter Outfit
Kirstin Sinclair/Getty Images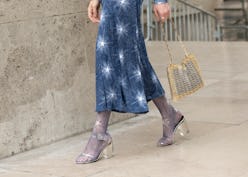 While you may opt to wear pants every day of winter to ensure ultimate warmth, you don't necessarily have to say goodbye to your favorite mini skirts and dresses once the weather turns. Adding tights to your look is the ideal way to give it a little oomph, while keeping your legs toasty and free of frostbite. And gone are the days when your drawers consisted of nude or black pantyhose that would rip after a few wears, the best warm winter tights now are equal parts fun and functional.
If you get cold easily, it's a good idea to look for a thick pair of thermal tights that are either fleece-lined, cashmere, or wool — these are your best bets for warmth. There's no shame in going the practical route with plain black tights, in fact, there are plenty of cool ways to layer them into your look. But if you want to break outside of your comfort zone, then go for one of this season's fun options, like printed hosiery which has become a favorite style of winter tights for women this year. Designers are stamping logos on stockings, making them as covetable as an It-bag or pair of shoes. For instance, the iconic Gucci print comes in a trendy pair of tights you can easily style with a plaid skirt or metallic mini dress. Or on those dreary days, consider a pantyhose in a bold hue that will instantly brighten up your winter outfit while still keeping frostbite far, far away.
Ahead, find 15 tights that will keep you warm, without compromising style.
Best Warm Winter Tights: Patterned
Best Warm Winter Tights: Blacks & Neutrals
Best Warm Winter Tights: Colored & Bold