The Next Time You Invest In A Luxury Bag Take A Look At This List First
It's time to pick and choose.
@marianna_hewitt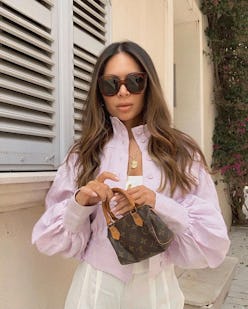 When it comes to iconic handbags that every fashion lover aspires to have in their closet, one might think of Chanel, Dior, or Valentino. Yet if you want a trendy one, there are lists that declare which designer bags top the year's most wanted. Within these lists, you might see a handbag or two that you already know, but also some silhouettes you never knew about. Luxury resale site Vestiaire Collective revealed to TZR its most popular handbags of 2021 — it ranged from Louis Vuitton's Speedy to Gucci's Diana bag (beloved by Princess Diana herself).
Many classic bags top this year's list as must-have pieces as they're both timeless and on trend. "Iconic bags are the epitome of timeless style, quality, and beauty," said Soohee Cho, Vestiarie Collective's former director of merchandising. "These bags are not only great investments in terms of elevating style, but they often have higher resale values, making them a smart financial investment. For example, select Hermès Birkins from 2012 that are in very good condition have sold for more than the original price of purchase."
Read more: 35 Black-Owned Handbag Designers To Support
As you consider which It-bag or favorite celebrity purse to buy, think about its potential resale value too — if you plan on eventually trading it in for something else. "When purchasing a bag, be sure to assess the quality, desirability, and rarity. These three metrics can increase the value when you are ready to sell it," Cho said. Whether you're selling or need inspiration for a new handbag to add to your collection, check out the 34 most popular handbags sold on Vestiaire Collective so far. (The first nine picks are also part of Vestiaire Collective's top luxury bag brands of 2021, so you know they're worth investing in.)
We only include products that have been independently selected by TZR's editorial team. However, we may receive a portion of sales if you purchase a product through a link in this article.
Fendi's Baguette
Gucci's Jackie
Dior's Monogram Book Tote
Louis Vuitton's Pochette
Hermès' Bolide 31
Saint Laurent's LouLou
Gabriela Hearst's Nina
GANNI's Mini Knot Baguette
Telfar Bag
Totême's T-Tote
Coperni's Swipe
Okhtein's The Feryel
Kassl Editions' Pillow Tote
Louis Vuitton's Speedy
Balenciaga's City
Gucci's Dionysus
Prada's Re-Nylon
Givenchy's Antigona
Gucci's Soho
Louis Vuitton's Alma
Gucci's Ophidia
Marc Jacobs' Snapshot
Gucci's Bamboo
Valentino's Rockstud
Louis Vuitton's Keepall
Dior's Saddle Bag
Gucci's GG Marmont
Dior's Lady Dior
Longchamp's Le Pliage
Louis Vuitton's Noé
Prada's Tessuto Nylon
Stella McCartney's Falabella
Louis Vuitton's Neverfull
Furla's Metropolis