Consult This List Of Must-Have Bags Before Investing In Your Next Luxury Purse
Here are the top styles for 2022.
Gucci Jackie handbag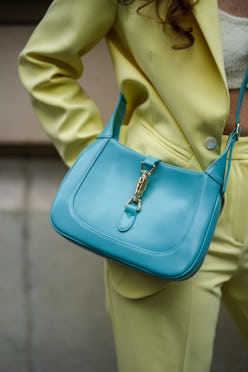 When it comes to the iconic handbags that every fashion lover aspires to have in their closet, you might think of Chanel, Gucci, or Dior — the classics that always remain in style. And, you're absolutely right: Luxury purses are an investment for the very reason that they will always be en vogue, whether you're purchasing Louis Vuitton's classic Neverfull or opting for a modern edition of Fendi's Baguette bag. The most popular handbags in 2022, according to secondhand luxury and designer marketplace Vestiaire Collective's analytics, certainly fall into this timeless category and reflect the zeitgeist of this year.
"One handbag I have my eye on for 2022 is the Fendi baguette. It was one of the most popular bags of the late '90s and early '00s, and I love that it had a major comeback this year with the resurgence of Y2K fashion," says Tracy DiNunzio, CEO of Vestiaire Collective US & CEO of Tradesy, to TZR.
Elements of pop culture — especially celebrities and TV shows — also play a huge role in determining which luxury It bags will reign supreme each year, or at least will surge in demand for the next few months. "When the Sex and the City reboot [aired in 2021/22] it garnered lots of traction, specifically for Carrie's purple sequin Fendi baguette (searches for this bag increased by +42% on Vestiaire Collective) while [searches for] Charlotte's LV Capucines bag increased by +126%" says DiNunzio. "We even saw this effect with the premiere of House of Gucci in late 2021, with searches for vintage Gucci pieces increasing by +35%."
Once you've decided to invest in a timeless designer handbag, the secondhand shopping is often an excellent place to source economical gems. (Not to mention, it's also better for the environment.) "One of my favorite things about shopping secondhand is the thrill of the hunt and finding a great deal," says DiNunzio. "Platforms like ours also allows you to negotiate with sellers, too, by making an offer, so you're sure to get the best possible price."
Additionally, as you consider which popular purse to buy, you'll want to think about its potential resale value — if you plan on eventually trading it in for something else, that is. Metrics such as quality, desirability, and rarity can increase the value of handbags if and when you decide to sell one. Luckily the must-have handbags for 2022, as vetted by the Vestiaire Collective team ahead, are sure to retain their resale values.
Without further ado, peruse the top purse styles this year, below, that you can thrift from TZR's favorite secondhand marketplaces. Should you find a design you like, simply add it directly into your virtual checkout cart. Enjoy the investment bag hunt!
We at TZR only include products that have been independently selected by our editors. We may receive a portion of sales if you purchase a product through a link in this article.
Louis Vuitton Speedy
Fendi Baguette
Louis Vuitton Neverfull
Prada Tessuto
Balenciaga City
Louis Vuitton Pochette
Stella McCartney Falabella
Louis Vuitton Noé
Gucci Jackie Vintage
Dior Lady Dior
Gucci GG Marmont Flap
Longchamp Pliage
Louis Vuitton Alma
Marc Jacobs Snapshot
This article was originally published on