How To Wear Colored Tights The Sarah Jessica Parker Way
James Devaney/GC Images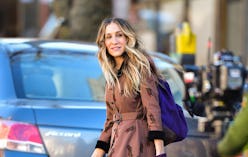 Leave it to SJP to make a bold trend look so easy. The actor just sported the look you've been afraid to try on the set of the HBO comedy Divorce on Mon. Her chic wintery ensemble is the perfect example of how to wear colored tights the Sarah Jessica Parker way.
Seeing the fashion icon laughing with her on-camera girl gang in New York is the ultimate flashback to her Carrie Bradshaw days. Her divorcée character's style in the show — now in its third season — is reminiscent of her old Sex and the City looks, too.
On Mon., Parker was spotted between takes with co-stars Molly Shannon and Talia Balsam. "Sublime company. And too many laughs," she wrote about spending the day with her new besties on Instagram. "Keep it up and they are going to separate us!"
To no surprise, she sported the most trend-forward ensemble, including a bright floral midi dress under a contrasting printed coat adorned with mini dancing couples. Belted at the waist, the chic jacket hit below the knee, exposing just a little glimpse of the cutest olive-green tights underneath. The look was completed with purple gloves and a matching purple Jansport backpack, too.
Freezing temps in New York City warranted a pair of warm tights. Between scenes, the ladies were even spotted piling puffy coats and sherpa boots over their outfits. But even when she wasn't sporting her yoga pants on overtop, Parker seemed to be keeping toasty with her colorful tights.
The actor has been playing around with fun stockings a lot lately, in fact. She's been wearing her favorite fishnets regularly, and now she's gone for something with a little more pizazz (or rather, the show's costume department has). Nonetheless, Parker pulled it off as effortlessly as you'd expect her to.
Her look is proof that colorful tights aren't only old news. SJP's clashing colors and prints will inspire you to introduce new hues to your looks with this bold hosiery (rather than the traditional matchy-matchy way) — that's how the fashion girls are incorporating colorful tights these days.
Try sporting them under a printed dress (perhaps the only way to wear a dress in this weather, actually) or pair them with varied textures, like camel leather booties and a tweed coat dress. Don't be afraid to clash — SJP's latest look, after all, is evidence that almost anything goes.
The Zoe Report's favorite colorful tights, ahead.
Shop The Look