Milan Fashion Week Is Putting Skinny Pants Back On The Map
Daniele Venturelli/Getty Images Entertainment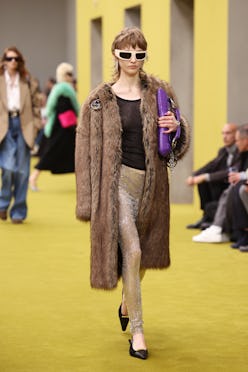 Of all the polarizing and widely panned fashion trends to exist — think low-rise denim and wedges — nothing sparks heated debate quite like skinny pants. But as of late, there have been rumblings on social media that the fitted silhouette is poised for a revival. Now it seems the biggest designers at Milan Fashion Week Fall/Winter 2023 are co-signing on the look, too, by putting slim cut bottoms all over the runways. Yes, like it or not, the controversial design is back in the fashion zeitgeist. Before you jump to conclusions and write off its return, take a breather — the 2023 version of the style is a far departure from the hip-grazing stovepipe jeans you remember from the 2010s.
If anyone can make skinny pants seem chic, it's Italian fashion houses. Take beloved brand Prada, who opted for a tailored, office-approved take on the hotly debated design. Paired with cozy knits and chic blouses, the trousers spotted at the show felt especially modern. Alternatively, Diesel went the off-duty route, exhibiting pocket-heavy pieces that morphed into boots at the bottom. Moreover, some ultra-sparkly pantaboots were included in the label's collection, too. They're practically begging to be worn at a fabulous party.
Still with me? Below, take a peek at the skinny pants seen on the Italian runways this season. Maybe, just maybe, they'll grow on you by the time you reach the last one.
At the Prada show, models went down runways in elevated high-waisted pleated trousers. The lineup featured the perfect mix of pastels (like this lovely bubblegum pink) and neutrals (including light grey).
Meanwhile, at Blumarine, ultra-shiny, skin-tight pants took center stage. They may not be the easiest to stroll around in, but they'll surely make a bold statement.
Gucci's skinny pants tapped into two contrasting vibes. First, the fashion house showcased pared-back trousers with eye-grabbing front slits on the bottom, as seen above. And on the opposite end of the spectrum, the label presented sultry after-hours pants by way of gleaming rhinestones.
At Diesel, skinny pants appeared in the label's grungy-cool collection. Here, a model wore a pocket-happy, pantaboot style. Follow the brand's lead and go for a cohesive look by teaming the bottoms with a matching jacket or top (bonus points for a coordinating statement belt).