It's Time For A Dress Refresh — Shop The 9 Biggest Styles For Spring
You might want to clear some space in your closet.
@_aje_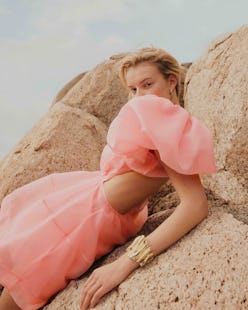 We may receive a portion of sales if you purchase a product through a link in this article.
The birds are chirping, the flowers are blooming, and the sun is shining. Yes, what I'm describing is good ol' spring weather. And pretty soon — 18 days to be exact, but who's counting? — this scenario will be a reality. And as you're gearing up for what the new season will bring, you're likely in the process of prepping your wardrobe accordingly, perhaps even scouring the internet to see what up-and-coming pieces are worth adding to your wardrobe. One category you shouldn't ignore? The dress trends of spring 2023. After all, there's no better time to bare your legs than the long-awaited arrival of warmer temperatures.
According to Shopbop's Fashion Director Caroline Maguire, minimalist dresses — the antithesis of the glitzy, look-at-me party styles that have reigned supreme the past few seasons — are one of the most sought-after dress trends this spring. "From slinky slips to pared-back strapless styles, dress trends this season are taking inspiration from the '90s and lingerie silhouettes," she says to TZR. "We're seeing a lot of love for these styles, as they're super versatile and perfect for day-to-night dressing — they feel casual yet chic and come in a variety of colors and prints."
Moda Operandi's Senior Ready-To-Wear Buyer Tiernan Cowling is in full agreement, adding, "Coming off of a year where customers invested so heavily in sequins and embellishments, we're excited to welcome the new direction of understated polished elegance." However, she says it's all about striking a balance. "Who doesn't love a little embellishment? We're just toning it down and choosing our bright spots." Meaning, glamour isn't necessarily going anywhere, it's just being dialed down a notch or two — think dresses with subtle crystal details or dainty trimmings like ruffles or lace.
Whether you're on board with the minimalist '90s look or desire something a bit more bold, the complete list of spring 2023 dress trends, ahead, will have you covered. Keep scrolling to see and shop the season's must-have styles.
Minis
This spring, mini dresses are on the rise. Maguire notes a recent uptick in Shopbop consumers shopping for this length. "Minis offer a more spirited, playful look and can be styled in so many ways," she says. In fact, the fashion director invites you to pair a micro dress over your favorite tee and denim for a more casual outfit, or spice it up with tights and a blazer or cardigan.
'60s-Inspired Styles
Get groovy — '60s fashion trends, like bold graphics and plastic jewelry, have been bubbling up in the fashion scene as of late. Thus, fashion consultant and stylist Danielle Williams-Eke foretells a mod theme to be especially big over the next few months. She describes the look as "cute little minis done in cool textures and fabrics like tweed." Print-wise, consider dabbling in pop art-looking florals or psychedelic patterns. Pro shopping tip: Look to cult-favorite labels like La DoubleJ and Stine Goya for your '60s fix.
Voluminous Shapes
New York-based stylist Ryan Gale cites the volume seen on the runways at shows like Annakiki as an indicator that billowy silhouettes will surge in popularity. The expert lends some styling advice for those who feel slightly intimidated by the dramatic look: "Just keep it simple; if you're going to do something with volume, it can still be very short and sweet. You could do a little strappy sandal or a flat with it." And since voluminous dresses are often on the shorter side, Gale says that's already a statement in itself, so no need to go overboard on accessorizing.
The ESD
You know all about the LBD, but what about the ESD — aka The Easy Slinky Dress? Cowling and her team love the look so much they that coined the acronym. Essentially, an ESD is a ruched jersey style. For this style, the buyer points to shopping options from Alaïa, Christopher Esber, and her latest favorite, Atlein.
Column Dresses
"Column dresses that are strapless are becoming popular, and we expect [them] to continue to trend this spring season," Maguire notes. "Maxi style column dresses specifically are eye-catching, as they offer a more serious, structured look." Cowling echoes the fashion director, saying column styles are an ode to the '90s, with clean lines and a neutral color palette. "Think off-duty model [vibes]," she says.
Moreover, the fashion set is also leaning into the season's front-running style. "I love long straight dresses for spring, with cool detailing but simple hemlines," says influencer Brittany Xavier. One of her favorite iterations of the style is Norma Kamali's Spiral Strapless Dress.
Transparent Fabrics
Ah, sheer dresses — they're the sartorial gift that keeps on giving. Unsurprisingly, Cowling says the transparent dress trend continues to dominate the fashion industry. The latest take on the beloved design? "Delicate pastels, cloud-like fabrications, draped and pin tucked in all the right places," Cowling explains.
Little White Dresses
"As spring approaches, attention will shift from the LBD (little black dress) to the LWD (little white dress), and I, personally, cannot wait for this dress trend to take off this season," Maguire says. For the daytime, try a breezy, puff-sleeve take on the style to keep things casual. And for an evening look, consider a sultry, body-hugging LWD.
Sherbet Shades
Maguire says blissful bright shades will be everywhere this spring. "From turquoise blue and bubblegum pink to citron yellows, this season is dialing up on these playful sherbet shades." Gale is on the same page and encourages you to experiment with splashes of color, like pink, over the next few months.
Goth Chic
Williams-Eke expects vampy details — a key trend during NYFW Fall/Winter 2023 — to be a prominent theme. "There's this sexiness done in a way through laces and mesh, but in all black," she says. "I think [the] LBD is going to come back in a way that feels very forward and very cool with details that are romantic, but still give that dark goth vibe." Speaking of lace, Gale anticipates the dainty detail to be a key trend, too. Try the of-the-moment look via SIR. or Reformation's sleek lace slip dresses.