Everyone's Wearing Rosettes This Summer — Here's How You Can, Too
They're catnip for fashion girls.
@alyssainthecity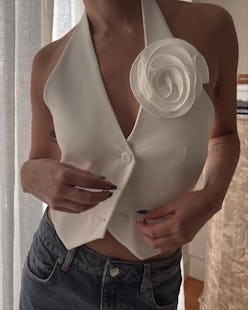 We may receive a portion of sales if you purchase a product through a link in this article.
If you find yourself wearing florals ad nauseam come spring and summer, you're not alone. That's because the dopamine-boosting motif always feels like a satisfying sartorial choice after a long and cold winter, a time when blooms are scarce. But this season, flower enthusiasts will be thrilled to learn there's a fresh way to approach bud-adorned styles right now: by wearing rosette outfits. The romantic look is sprouting up everywhere, and feels like a major part of the fashion discourse for the first time since Carrie Bradshaw wore oversized blossom accents on Sex and the City in the early '00s.
The first sign that the three-dimensional embellishments were back? The Spring/Summer 2023 runways, where labels like Acne Studios, Dries Van Noten, and Rochas all dabbled in the emerging look, showcasing rosettes on plaid tops, sheer floral dresses, and striped button-downs, respectively. And more recently, during this past fashion month in February, droves of designers — including Christian Siriano, Sandy Liang, and Burberry — followed suit. The catwalks were bursting with pieces enlivened by way of attention-commanding roses — a sign the sweet style certainly won't be fading away once autumn rolls around. (Florals for fall? Now that's what we call groundbreaking.)
JP Yim/Getty Images Entertainment
Celebrities, too, are signing off on 3D florals this year. For starters, the fashion crowd raved about Zendaya's pink rose-covered Valentino number at The 29th Screen Actors Guild Awards for days following the event. On a similar note, Hailey Bieber documented her affinity for the romantic design on IG for Easter. In the selfie, she wore a cream mini dress from Magda Butrym that boasted two bud details on the chest.
Inspired to test out the look this summer? If you're shaking your head yes, keep scrolling below for six rosette outfit ideas, courtesy of a few of our favorite fashion influencers.
Keep Things Cohesive
For an Instagrammable look you can wear virtually anywhere, team a red rosette choker with a blazer and handbag in the same striking shade. To ground the bright hue, add a few neutral separates.
Easy & Elevated
Here's another approach to the emerging trend: Try a summery top with a standout rosette, like the piece influencer Alyssa Coscarelli is wearing above. Then, go for an of-the-moment denim maxi skirt. Tip: Keep this look on standby for your next low-key get-together.
Pretty In Pink
Make a bold statement in Rosette NYC's bright pink lace dress, which features a pastel blue flower front and center. As the name suggests, the label specializes in looks emblazoned with blooms, so head to its website to get your sweet fix. Team the dress with its coordinating cardigan for a fun matchy-matchy moment.
Crafty Cool
If you have the skills to made a bud by hand, pat yourself on the back because that's seriously impressive. And if not? That's OK too — luckily, you can buy a crafty flower from Copenhagen-based label FIGARINE. The brand offers up rosette belts, as seen above on influencer Simone Noa. Wear the piece atop a sweater, diagonal over a jacket — whatever your heart desires.
The More, The Merrier
Dive head first into the feminine look by going for a top with not one but three rosettes (because go big or go home, right?). You can easily tone down the outfit with pared-back trousers and a black belt.
Sweet, Meet Sporty
Is the look a tad too girly for your taste? There's a simple solution: Offset the style with contrasting elements, like a maximalist tie-dye top, sporty track pants, and sneakers.