Khaite's Fall/Winter 2023 Collection Is For Minimalists With A Playful POV
Have your timeless blazers and furry pants, too.
courtesy of Khaite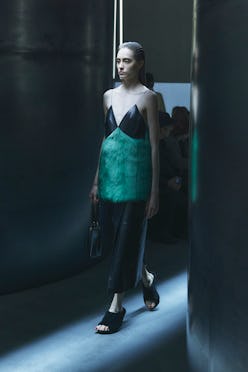 What does a cool girl wear? While the answer to that question can get squishy around the edges, many in the fashion industry might say Khaite. A style insider favorite from the beginning, the brand quietly landed on the shopping scene in 2016 by way of concept shop The Line, and quickly grew a cult following for its elegant and intelligent take on modern wardrobe essentials. But the buzz only began by way of perfect-fit jeans and cashmere sweaters, hyped through an editor-fueled whisper network. These days the label is better known for luxurious basics you didn't know you needed — a through line, for sure, in its new Fall/Winter 2023 collection.
The Khaite muse this season is definitely less of a girl than a grown woman, and one with polish, poise, and a wry sense of humor at that. Shown within the label's first ever store, which opens this week in NYC's SoHo neighborhood, the looks were a deft combination of closet classics and sartorial statements: think a flouncy fit and flare skirt topped was with a slinky cut-out top, or slim leather trousers anchoring zippy race-car motif sweaters. And while there were cropped jackets aplenty (a defining trend this season), maxi coats were alive and well on this runway, and looked way too chic to abandon just yet.
"The silhouettes of Fall/Winter are at once extended and clarified, animated by distinct layers and alluring apertures," reads the show notes. "Signature techniques are honed. Structure and contrast redefine familiar textures. Heightened details emerge as gestures. With stealth strength ripened into assured influence, the pleasures of connection — and control — are revealed."
All of this, of course, is a very fanciful way to say that designer Catherine Holstein hit her stride this season by evolving the sweet-yet-sultry tailoring and sheer dresses she does so well with the unexpected. Consider the addition of bold shearling pieces, including plush heels (a nod, many might say, to Phoebe Philo's legendary furkenstock for Céline Spring/Summer 2013), downy outerwear, and full-on muppet-y pants. Or perhaps you might note the angular, hardware-heavy bags, or western style belts, often left purposely unbuckled. These were departures, for sure, and ones that arguably paid off. Against the rest of the simple and sleekly rendered line-up, off-kilter elements set the looks apart from the kind of bland minimalism that's run rampant through fashion for the better part of the last decade.
In the midst of a New York Fashion Week culture that's increasingly defined by who can peacock the hardest for the photographers outside the shows, clothes that beckon and wink, rather than yell, for attention feel like a breath of fresh air. They also carry a reassuring message for those who would rather not jump on the latest bandwagon to run through the TikTok-verse: You still have your timeless staples, and find a way to make them relevant and fun.
Keep scrolling for key looks from the collection.