Tory Burch's Fall/Winter 2023 Collection Gives Basics New Life
We'll take one of everything, please.
Tory Burch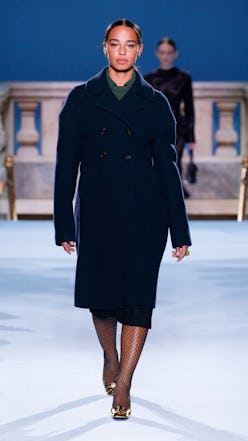 Minimalists can rejoice — and breathe a sigh of relief in these maximalist times — as Tory Burch just debuted a seasonal collection that'll speak to those with understated fashion senses. After her spring 2023 lineup zeroed in on '90s simplicity, Burch's Fall/Winter 2023 show honed in on the concept of a modern wardrobe. For her, this meant breaking down traditional everyday items, be it a workwear blazer or a prep pleated skirt, and rebuilding them in ways you might not expect.
For example, take the jacquard dresses, which appeared "backwards." Meanwhile, pleated skirts were worn slightly askew with a giant safety pin clasp, and cashmere sweaters came in pre-scrunched sleeves for an off-hand attitude. For those who fuss over the slightest imperfections like pills on a beloved winter coat, the designer reminded everyone that worn-in pieces have sentimental values of their own: Burch sent out a plush wool coat with "pills" down the runway as another model showed off denim skirts with frayed edges.
Construction details that designers would normally want to conceal in a piece, too, like boning and hook-and-eye closures, were deftly brought to the forefront by way of Burch's lace camisoles embroidered with rosettes. (It seems this sweet floral look, which was spotted on the Spring/Summer 2023 runways back in September 2022, will remain on-trend for fall '23.)
Diving deeper into the undone aesthetic, Burch thoughtfully let the brand's logos hang off her bags and she sent models down the catwalk in "broken" heels that emphasized the beauty of imperfection. Her square-toe footwear were adorned with asymmetrical sliced logos. When it came to her jewelry, the designer acknowledged in a press release that the pieces encourage experimentation. Models wore bright crystal clip-ons (that would dazzle anyone at cocktail hour) with carved cocktail rings in semi-precious jade and moonstone. These pieces could certainly liven up any basic button-down shirt or black blazer in your wardrobe.
Slaven Vlasic/Getty Images for Tory Burch
At this point, if all these front-facing details were obvious to her guests at the show, the designer did throw in several sartorial curveballs one wouldn't notice unless they read the show notes. Here, Burch revealed that she and her team explored "the tension of opposing materials: uber luxurious vs. tech-y, sumptuous vs. sheer, glossy vs. matte," which all added extra dimension to her version of modern wardrobe pieces. For example, a linen skirt was injected with four-way stretch while crushed velvet mimicked the look of astrakhan (the black or gray curly fur from lambs).
Burch launched her namesake label back in 2004, and the experience shows: She was able to make perfectly imperfect clothes that didn't feel comically deconstructed or too out-there for her core customers to wear. Her fan base, after all, is composed of power women who carry an impeccable air of refinement, and they still need their safe-for-work polished sweaters and silky trousers. Not that she doesn't attract quite the cadre of celebrities, too. Powerhouse ladies like actors Suki Waterhouse, Lori Harvey, Claire Foy, and Park Eun-bin (from Extraordinary Attorney Woo) sat front row at the show. On the catwalk, model and My Body author Emily Ratajkowski made an apperance wearing the finale look.
Ultimately, Burch produced a fall collection that pushed against what you'd expect from classic staples while still playing to her strengths, like sculpting and tailoring. "[The Fall/Winter 2023] collection is about the confidence that comes from being unapologetically yourself," said Burch in a press release. And truly, the Tory Burch dresser certainly knows who she is and where she stands in the world.