31 Fun March Outfits To Kick Off The New Season On A Stylish Note
Put some spring in your step.
@nnennaechem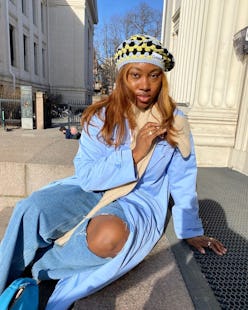 We may receive a portion of sales if you purchase a product through a link in this article.
It's that time of year when everyone is thinking the same thing: Thank goodness winter is *almost* in the rear-view mirror. There's a lot to look forward to in March — think warmer temperatures and, of course, ushering in your spring wardrobe. And thanks to fashion month, you likely already have a slew of fun March outfit ideas in mind. The smile-inducing color combos your favorite street style stars experimented with for the shows, like deep purple and baby blue? Saved on 'the gram. Or perhaps the need-to-try runway styling tricks, like, say, unexpected ways to wear a belt? Bookmarked.
Don't forget, too, that transitional dressing is key in March. For starters, learning how to wear leather in the spring will go a long way. Pro tip: A maxi skirt in the sumptuous material is having a moment in the sun — quite literally, if you bring it out during the daytime. On the other hand, you can probably get away with wearing linen Bermuda shorts this month. Try teaming the breezy bottoms with knee-high boots to ease into spring dressing. Finally, if you don't already own one, invest in a good trench coat or denim jacket to save you from the finicky hot-to-cold-to-hot temperatures.
If you need more outfit ideas and exact shopping recommendations for the month, jump ahead as TZR rounded up 31 feel-good looks to try. Go forth and embrace the new season to the fullest!
Event Ready
Have a spring wedding or work event on the docket? Make a bold entrance in a head-turning magenta number.
Oh Hey, Crochet
The cure to keeping chipper on frigid spring days? A bright crochet topper.
Not-So-Basic Basics
Nowadays, a white blouse is anything but basic. Wear yours with relaxed pants and cool kicks for an easy yet stylish WFH look.
On Island Time
Escaping to somewhere warm this month? First, lucky you. Second, consider packing a sand-to-street breezy floral blouse and a sweet lacy slip skirt.
Feelin' The Love
Give every look a little extra love — and flair — via a heart-shaped necklace.
New Main Squeeze
Behold! An energy-lifting color combo worth trying: Tangerine orange and lemony yellow.
Easy Peasy
You can also count on understated separates, like an oatmeal sweater and white pants, when you're in a rush.
Bundle Up, Baby
Before you get too excited and throw your winter gear into storage, keep a balaclava in easy reach for those random chilly days. Trust us: Your ears will thank you.
Statement Maker
If your neutral ensemble could use some sauce, turn to a fun, quirky necklace. Might we suggest a flower or starfish pendant?
Mad For Plaid
Swap out your black blazer for a printed iteration, like bold plaid. To seamlessly tie the look together, slip into a dress in the same color scheme.
Layering 101
Chances are, it's too early this month to wear your mini dress solo (hang in there just a bit longer!). Don't worry; layering a playful lace or mesh top underneath yields a chic result.
More Maxis, Please
ICYMI: Denim maxi skirts are spring's bottom du jour. Work another texture into the outfit, like a leather blazer, and you're ready for whatever the day has in store.
Knockout Kicks
Bold, bright kicks will have you getting dressed feet first. Allow the sneakers to steal the spotlight by opting for neutral separates.
A Coat To Note
If you live somewhere cold, the beginning of March is still, unfortunately, coat weather. Pair an elevated topper with a cozy knit midi for a casual day out on the town.
Style Is In The Bag
When it comes to putting together a look, handbags shouldn't be an afterthought. In fact, the piece has the potential to instantly elevate your look, so consider a luxe leather carry-all.
Skinny Scarf Comeback
Like it or not, skinny scarves are back. Embrace the revival with a cozy print-perfect accent. You might be pleasantly surprised by how much you missed the early aughts-favorite style!
Just Knit It
Can't seem to muster the energy to put together a look? TZR has you covered. Lean into cozy knit separates, like a cardigan and maxi skirt, and your look is complete.
Sweet Meets Street
One way to keep your outfits fresh is by tapping into contrasting vibes. For instance, layer a streetwear-looking tee over a dainty lace dress.
Sun's Out, Legs Out
Warm, sunny days call for a midi without heavy hosiery. A cute pup is optional, but highly recommended.
Sneaker Scene
If your afternoon requires a lot of walking, a comfy sneaker is a good idea. Then, elevate the outfit by throwing on a lightweight trench coat.
Denim On Denim
Denim on denim never disappoints. Give your true blues a splash of color via a bright sneaker or flat.
Leather Weather
When it's a bit too warm for a puffer but too cold for a shirt jacket — meet somewhere in the middle with a leather jacket. Need some shopping suggestions? Check out TZR's wishlist here.
Bring The Heat
The runways have spoken: Bright red is 2023's It hue — so why not double down on the color?
Can't-Go-Wrong Cargo
Cargo is the trend that just won't quit, as further proven by the Fall/Winter 2023 runways. So, if you haven't yet nabbed a pocket-covered style, now's the time to do so.
Fits Like A Glove
Fact: There's nothing worse than dry, cracked hands. While you (hopefully) won't need a snow-proof pair this month, a bright pink style sure is fun.
So Mini Styling Opportunities
For that springy mini dress that's a smidge too short for the weather, there's an easy styling solution you may not have thought of: wear bike shorts under it.
Top It Off
Top off your casual weekend look with an of-the-moment baseball cap.
Tank You Very Much
On low-key afternoons at home, pair a stretchy tank with relaxed cargo pants. And if you have plans later on in the day, just throw a cute cardigan or jacket over the look.
Go For The Gold
How to dress up a sporty jacket? Layer some chunky gold necklaces over the topper.
Totally Transparent
'Tis the season for all things sheer. Styling-wise, you can throw a tank under the top or wear it alone. It's totally up to you.
Boot Up
Since sandals season is on the horizon, give your boots some final attention by tucking your trousers into them.