Here's The Rundown Of October's Most Important Fashion News
There are so many cool collabs.
Dior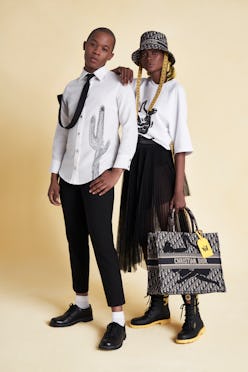 Fashion Month came to a close, but that doesn't mean the industry chatter is dwindling down. Indeed, October's fashion news cycle highlights brand happenings from all over, from the announcement of new seasonal campaigns to fresh designer drops in upcoming fall collections. De Beers Jewellers, for one, just launched a genderless line of blinged-out rings, bracelets, and necklaces — the first of its kind in its 100+ year history.
Accessory labels Swarovski and Aquazzura, on the other hand, debuted a shoe collaboration that doubles down on fall's metallic trend in a harlequin way, while LoveShackFancy and Larroudé came together to create an edgy take on the garden party shoe. On the activewear front, Savage X Fenty is debuting a new lingerie-inspired activewear line. And, you shouldn't miss music superstar Beyoncé in Tiffany & Co.'s minute-long anthem film, called Lose Yourself In Love. ("An homage to the joy of being one's unapologetic self," the brand called it in a press statement, and as a way to show its continued support of underrepresented communities in partnership with the Carters.)
To help you stay up-to-date on the newest brand collaborations, clothing launches, store openings (What Goes Around Comes Around is officially on Amazon!), and more, this story will be updated with need-to-know information until the end of the month. Read on to get a pulse on all of the industry news.
Dior & Thebe Magugu Team Up For A Special Cause
This month, Dior and designer Thebe Magugu (who won the 2019 LVMH Prize for Young Fashion Creators title) partnered together on a special capsule collection in order to support the Charlize Theron Africa Outreach Project foundation. The organization was created in 2007 by the actor with an emphasis on partnering with locally-led community-based organizations to focus on topics like sexual reproductive health and rights and/or the prevention of gender-based violence. (Theron is currently a Dior brand ambassador.) You can see the work that went into creating the limited-edition capsule collection here, as well as shop the drop online at dior.com. The legacy house will also make a donation to CTAOP.
Nordstrom Partners With On
Starting this month, the retailer will feature Swiss performance brand On in its new shop installations across 12 Nordstrom locations in the U.S. For those who are familiar with Nordstrom's fun installations, you'll know that customers will be able to shop and check out the newest pieces from said brand in this curated space. (If you wish to shop this very moment, however, you can check out the selections on nordstrom.com directly.) On has quickly become an It brand amongst fitness and athleisure enthusiasts for its quality, cushioned sneakers and on-trend offerings in both active and casual wear.
& Other Stories Drops A Collab With A.W.A.K.E. Mode
& Other Stories has a history of collaborating with cool and exciting brands, so it's no surprise the latest drop is in partnership with London-based brand A.W.A.K.E. MODE. The acronymous stand for "All Wonderful Adventures Kindle Enthusiasm" and the brand was founded in 2012 by Natalia Alaverdian. The collab features every fall piece you could want, from cozy outerwear to a versatile blazer to a bold fringe dress. You can shop the collection online now.
Neiman Marcus Celebrates Its Holiday Campaign
Neiman Marcus is celebrating its Make the Moment holiday campaign and kicked it off with an event at the Hollywood Athletic Club in Los Angeles, hosted by actor Tessa Thompson on Oct. 25. The occasion allowed for an unveiling of various "fantasy gifts" and associated installations, like a 1935 art deco Cartier tiara that transformed into a necklace halfway through the evening and a Scottie Pippen meet-and-greet, where his six NBA championship rings were available to view, too.
"As a loyal fan of Neiman Marcus, I am honored to be this year's host of the holiday campaign debut and fantasy gifts launch," said Thompson in a press release. "I am particularly inspired by their ongoing dedication to philanthropy and emphasis on charitable giving not only during the holiday season but throughout the year." A portion of all fantasy gifts proceeds are to benefit select charities nationwide.
Mejuri Launches An Influencer-Inspired Collection
Mejuri has joined forces with three female leaders — Matilda Djerf, Briana King, and Nadya Okamoto — to create bespoke charms for its latest collection, called 2.0 Collectibles and Creators. Find the full collection on Mejuri's website.
Bella Hadid Fronts Swarovski's Holiday Campaign
Bella Hadid is starring is Swarovski's 2022 holiday campaign, bedecked in baubles from the jewelry brand. In addition to jewelry pieces, the campaign features a gift line of home décor — all of which can be found on swarovski.com.
LoveShackFancy & Larroudé Launch A Shoe Collaboration
New York-based brands LoveShackFancy and Larroudé have come together to create a limited-edition collection of flirty footwear. The styles combine each brand's hallmark perspective on style (falling in line, in part, with LoveShackFancy's Resort 2023 collection) and includes seven designs in the forms of heeled mules, sandals, and boots.
The collection ranges from $365 to $490 and will be available on loveshackfancy.com and on larroude.com from Oct. 27.
What Goes Around Comes Around Launches Luxury Store On Amazon
Amazon recently began working with luxury vintage retailer, What Goes Around Comes Around (WGACA) and launched a digital shop in the Luxury Stores section of Amazon on Oct. 20. The space offers a curated assortment of luxury vintage handbags, jewelry, accessories, watches, and more from coveted labels like Louis Vuitton, Chanel, Hermès, Gucci, Dior, and Rolex.
Adam Selman Introduces The Savage X Fenty Sport Collection
Newly-appointed Executive Design Director Adam Selman is introducing his latest designs for Savage X Fenty in a new category called Sport. Paying homage to the brand's core business, the Savage X Fenty Sport collection features lingerie-inspired detailing, subtle motifs, and cheeky accents combined with high quality and breathable materials for a balance of purpose and playfulness.
Offered in sizes XS to 4X, the Savage X Fenty Sport collection will be available for purchase on Nov. 9 with early access for Xtra VIP members to shop some styles from Nov. 1 at savagex.com and in select retail stores.
Christian Louboutin Launches The LoubiFamily Line
For the first time, Christian Louboutin is introducing a new category of children's shoes and pet accessories with LoubiFamily. The collection includes comic-printed sneakers, shiny Mary-Jane ballet flats, and studded, red leather-lined collars and leashes. It will pre-launch exclusively at Saks Fifth Avenue in New York on Tuesday, Oct. 25 and on christianlouboutin.com on Wednesday, Nov. 2.
Natural Diamond Council & GEMIST Partner Up For A Collection
The Natural Diamond Council's Emerging Designer Diamond Initiative (EDDI) program has partnered with GEMIST, the first online platform to allow consumers to design jewelry and try it on at home before making a purchase.
The first of the EDDI collections has gone live on the website, with the option to customize two pieces by designer Dorian Webb. Through the partnership, customers can apply over 90 customizations to either the Dome Ring and Trellis Earrings, really making a piece that is as unique to their personality and style as it is beautiful.
Charles & Keith Collaborates With ITZY
Charles & Keith has partnered with K-pop girl group ITZY to create a bright and bold capsule collection called ITZ MINE. "We're so excited to present our first ever collection, inspired by vibrant connections between us and our fans, and we hope that everyone will love it as much as we do!" ITZY said in a press release. This collaboration marks the music group's first ever accessory partnership. From Oct. 20, the pieces will be available on charleskeith.com.
Anya Taylor-Joy Stars In New Jaeger-LeCoultre Ads
Anya Taylor-Joy is continuing her role as Swiss watch brand Jaeger-LeCoultre's newest brand ambassador in a campaign for the Reverso collection alongside fellow actor Nicholas Hoult. They star in a video released on Oct. 14 that's inspired by the butterfly effect, called "A New Turn," and that features artistic elements themed around nature, including waterfalls, canyons, and birds traveling. The metaphor refers to the Reverso itself as it refers to the watch's meticulous design and craftsmanship.
Loewe x On Release The Second Drop Of Cloudventures
This revived collaboration blends the technical expertise of Swiss performance brand On with Spanish label Loewe's luxurious edge. (The first run dropped in March 2022.) The latest edition of Loewe x On's Cloudventure running shoes bring artisan skills to running shoes designed for both city life and the great outdoors. Highlights of the design include uniquely marbled rubber outsoles and matte or iridescent mudguards, while packaging is made from recycled industrial materials.
Find the collection from Oct. 13 at Loewe stores, via the respective brands' websites, or on selected retailers including Mr. Porter, Net-a-Porter, and Mytheresa.
Palace & Gucci Collaborate On A Co-Branded Capsule Collection
Following Gucci's limited-edition collab with adidas, the house's Creative Director Alessandro Michele continues to experiment with its logo and design codes. Enter Michele's latest partnership with the skateboard brand Palace. The two labels devised a collaborative capsule collection, dubbed Palace Gucci, that comprises a medley of clothing, accessories, and even the iconic Moto Guzzi V7 motorbike. All pieces will feature a signature Gucci Palace monogram — which, in essence, combines Gucci's double G logo with either Palace's Tri-Ferg triangle or interspersed Ps.
From Oct. 21, the Palace Gucci collection will be exclusively available via the Vault — Gucci's experimental online store that offers rare vintage Gucci finds, as well as a curated selection of Michele-approved designer items, capsule collections, and limited-edition styles.
STAUD Opens Its First Store In NYC & Launches A Capsule Of Party Dresses
From Oct. 14, you can find STAUD at its first brick and mortar location in New York City (and second in the United States, after the Los Angeles location, which opened in Oct. 2021). The store is situated in the heart of the iconic Soho neighborhood at 45 Greene Street. "We've always felt so supported by New York since we first started the brand," George Augusto, the brand's co-founder and artistic director, said in a press release. "Being able to have a physical and tactile presence in this city means everything to us." The space was brought to life by interior designer Tommy Clements, who was inspired by past STAUD collections featuring bold and striking color-blocking details.
In addition to brand staples and best-sellers, STAUD's newest capsule collections of going-out dresses and separates will be readily available at the new storefront, for those shoppers who prefer an in-person experience.
Ginette NY Celebrates 20 Years In Business
French brand GINETTE NY is celebrating twenty years in business. To honor the anniversary, designer Frederique Dessemond has revived some of its most iconic designs and put them all together in a charm bracelet and a sautoir (i.e., a long, delicate necklace typically set with jewels). "Let's hope for many more [years] together," Dessemond said in a press release.
Beyoncé Stars In A New Tiffany & Co. Campaign
On Oct. 3, Tiffany & Co. debuted a Studio 54-inspired anthem film to go along with its Lose Yourself In Love campaign. The one-minute film, which was directed by Grammy Award winner Mark Romanek is set to Beyoncé's song "Summer Renaissance" and features a cameo by the singer herself. According to the press release, the piece is a show of continued support of underrepresented communities, in addition to its efforts within the About Love Scholarship Program, a collaboration with the singer's BeyGOOD charity and the Shawn Carter Foundation. (In 2021, the jeweler pledged $2 million in scholarship funding to students in the arts and creative fields at Historically Black Colleges and Universities through 2024.)
De Beers Jewellers Debuts An All-Gender Diamond Jewelry Collection
De Beers' RVL collections is a genderless line for self-expression and contains diamond-encrusted rings, bracelets, and necklaces in 18k white gold, black titanium, and 18k rose gold. "The beauty of this collection is that there is no prescription about who should wear these pieces or how they should be styled; it is entirely up to the wearer," De Beers Jewellers CEO, Céline Assimon, said in a press release.
Aquazzura & Swarovski Release The Aura Sandal
Swarovski and Aquazzura put their creative brains together to make a blinged out, strappy statement sandal, called "Aura," for your weekend wardrobe (not to be confused with Salvatore Ferragamo's Aura handbag, released last month). The style comes in two colors, purple and gold, and features angular stones along the heels and ankle straps.
Olivia Cooke Fronts Savage X Fenty's Latest Campaign
Actor Olivia Cooke is the face of Savage X Fenty's latest advertising campaign. In the new images, Cooke wears a sexy, netted slip dress and a lime-green satin, pinup style bra and skirt set, to name a few things. The collection is now available for purchase on SavageX.com and in the brand's retail stores.
This article was originally published on