Breaking: Phoebe Philo's Namesake Brand Is Coming September 2023
PATRICK KOVARIK/AFP/Getty Images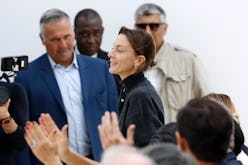 It's official: Phoebe Philo is back. After a five-year hiatus from the fashion industry, the esteemed British designer announced on Feb. 9 that her highly anticipated self-named brand is coming September 2023 (phew, plenty of time to save up!). The former Celine and Chloé creative director initially shared her new venture with the world in 2021, so it's been a long time coming. And, as expected, Philo's extremely devoted fan base (think fashion editors, stylists, buyers, and more) is causing an internet frenzy, expressing their enthusiasm via Instagram stories. Perhaps the best start to NYFW ever?
Philo made an Instagram account for her namesake label to break the news. The brand's first post read: "Our inaugural collection will be revealed and available on our website, phoebephilo.com, in September 2023. We will be opening for registration in July 2023 and look forward to being back in touch then."
Unsurprisingly, followers were quick to convey their joy. "SHAKING," said fashion columnist Evan Ross Katz. Meanwhile, revered celebrity stylist Karla Welch wrote "Never been more ready." And those are just a few comments — the post, shared just this morning, is flooding with heartfelt messages.
While the industry doesn't have too much intel on the brand quite yet, we do know LVMH Moët Hennessy Louis Vuitton is a minority investor, according to WWD. Moreover, Philo told the publication back in 2021 that her new label will be "rooted in exceptional quality and design." She added, "I am very much looking forward to being back in touch with my audience and people everywhere. To be independent, to govern and experiment on my own terms is hugely significant to me."
Hailing from Paris, Philo studied at the prestigious Central Saint Martins, where she met fellow British designer Stella McCartney. In 1997, a year after graduating, Philo relocated back to Paris to join McCartney at Chloé. By 2001, she was appointed creative director of the French powerhouse.
After a five-year stint, Philo exited from Chloé in 2006 and took the helm at Céline in 2008. During her 10-year run, the respected designer reinvigorated the French fashion house, giving it a minimalist and cerebral look. Philo was succeeded by Hedi Slimane in 2018, who took the label in a more punk rock direction (and dramatically dropped the accent from the house name's first e, making it Celine). Many mourned Philo's exit, including Toronto-based fan Gabrielle Boucinha, who made an Instagram page dubbed @oldceline to keep her legacy going. Today, the beloved page boasts 393k followers.
Stay tuned for more news surrounding Philo's namesake brand. In the meantime, go back into Celine's archives to fuel your excitement further.