The New York Fashion Week Looks I'd Wear Again In A Heartbeat
They're too good not to repeat.
Kelsey Stewart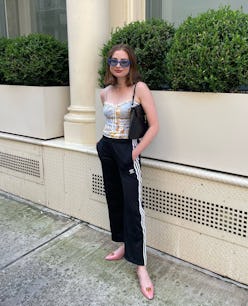 We may receive a portion of sales if you purchase a product through a link in this article.
Aside from a 45-minute Peloton spin class with Ally Love, nothing boosts my endorphins like stepping out in a wacky outfit formula for the first time. And after spending the better half of the summer in the suburbs of Pittsburgh, where I rotated through the same dozen or so articles of clothing I managed to stuff into my suitcase, I've been desperately awaiting the chance to test-drive some playful new street style combinations. Luckily, the New York Fashion Week Spring/Summer 2024 shows, which ran from Sept. 8 to 13, presented the perfect opportunity for me to have fun with fashion.
While many editors plan their fashion week looks far in advance (some even make photo collages on their phones — impressive, right?), my styling approach is far more haphazard. Let me explain: Before bed, I think of one or two pieces I want to wear and ideate an outfit from there. (What? You don't fall asleep with clothing on your mind?) For example, If I'm dead set on sporting workout pants, I'll come up with a few contrasting styles to offset said piece. Intriguing accessories, like a chunky beaded necklace or printed socks, are usually the answer. Think of it as the Wrong-Shoe Theory extended to my entire look (lol).
Sometimes, the ensemble I brainstormed in my head turns out just as well as I'd hoped. Other times, however, I find my original look needs a little finessing, which explains the chaotic state of my room right now. The bottom line: My main priority during fashion week is ensuring I feel good in whatever I wear, whether via fun shades or comfortable silhouettes.
Though the city's end-of-summer heatwave prevented me from rocking my new fall pieces (ugh, this colorful MOTHER cardigan would have been sooo fun to style), I was more than happy to lean into many things left hanging in my closet untouched while I was out of town. My new Cou Cou Intimates baby tee, for one, didn't get the wear it deserved this season. Moreover, I'm one to pull out items I've owned for years, like my black Celine bag I bought in 2015 (get ready for a cute little story about it ahead).
Below, find a full breakdown of every look I wore during NYFW to kickstart your own style experimentation — no runway shows required.
Day 1
I scored these Adidas track pants at the Delaware outlets last month and have worn them religiously since. Because I like to inject various aesthetics into my outfits, I paired the sporty bottoms with a romantic floral top from Reformation. Did I get painful blisters after walking five miles in these Maryam Nassir Zadeh pink heels? Yes. But did they look adorable with my 'fit? Also yes.
Day 2
Though it felt like the dog days of summer this past week, I didn't have the patience to wait until fall to step out in this plaid mini skirt from the upcoming Rowing Blazers and Target collab, which drops on Sept. 23. But can you blame me? It's the perfect everyday bottom (nice work, Jack Carlson).
On the shoe front, wearing a heel for the second day in a row — this time, a Gucci pair I found on the RealReal — was only possible thanks to the incredible chauffeur service Blacklane. Major shout out to the friendly drivers who transported me to the shows on time! In the future, I'll definetly book a ride with the New York-based car company when I need a lift from my Brooklyn apartment to LaGuardia airport. (I typically get travel anxiety, and know I can count on Blacklane for a stress-free journey.)
Day 3
I styled my day three outfit around Mansur Gavriel's bubblegum pink M Frame Bag as I carried it to the label's 10-year anniversary block party. What came to mind next? These fiery red square-toe Mary Janes from VIVAIA (I've been loving an unexpected color combo lately). To tie everything together, I slipped into a pink-trimmed Gimaguas mini dress, which I wore atop a vintage sheer white skirt.
Day 4
While commuting into the city, I was slightly worried I went too hard on the candy-colored neons, though I got over that thought pretty fast. How could I regret wearing this silky Rails chartreuse dress, after all? Given the 80-plus degree forecast, my bright pink White & Warren sweater was strictly for style purposes. Then, I added a third shade into the mix with Bottega Veneta's Double Knot Bag in mint, which I borrowed from designer rental company Vivrelle. And because my feet could not — I repeat, not — handle anything other than sneakers, Puma's comfortable Palermo style completed my day four look.
Day 5
I'd be lying if I said I didn't roll out of bed and throw this outfit together in two minutes flat — it's been a busy week, OK?! I got these boxing shorts from a Milk Makeup workout event years ago, and yes, I may be the only person who held onto them for this long. What can I say? I can't resist an athletic look. To elevate the bottoms, I reached for an oversized white button-down.
Because my day didn't require too much walking (well, at least compared to the rest of the week), I went with these calf-hair boots from STAUD. Fun fact: This Celine bag was my first designer purchase; I still remember patiently saving up my paychecks from my retail job at J.Crew to buy it on Poshmark. Aww, 19-year-old Kelsey would be proud I still tote it around today.