Sports & Fashion Have Joined Forces In A Game-Changing Way
Prada soccer uniforms, anyone?
Written by Maura Brannigan
@venuswilliams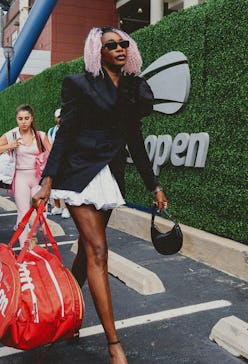 When the 2024 Olympic Games make their long-awaited debut next July, it won't just be car manufacturers and technology corporations that you'll see advertised in every stadium and on every commercial break. Instead, you'll catch LVMH and its maisons, including Louis Vuitton, Dior, and Loewe, paying $166 million to design the medals, sponsor the athletes, and of course, dress the whole of the French delegation in their official uniforms. That's because the world's largest luxury conglomerate — which owns 75 houses and ranks first in the French stock market index by market capitalization — will be sponsoring the games at the highest level as a premium partner. The pinnacle of fashion and the pinnacle of sports will be in business together on an unprecedented stage.
The rapport between fashion and sports is long and storied, weaving in and out of decades — centuries, even. Today, though, it's hitting a fever pitch, and the two sectors have never been more enmeshed, with capital-F fashion labels increasingly inking partnerships with sporting franchises.
Take soccer: In July, the U.S. Women's National Soccer Team debuted at the 2023 FIFA Women's World Cup wearing suits and sneakers designed by cool-girl menswear designer (and Nike collaborator) Martine Rose, while the Chinese women's soccer team tapped Prada for uniforms. Burberry joined forces with soccer-inspired lifestyle brand Able Made on a range of soccer apparel crafted from upcycled Burberry fabrics.
Then there's the WNBA. In July, M.M.LaFleur kicked off a multi-year partnership with the WNBA's New York Liberty. Going forward, WNBA fans can expect to see the New York-based womenswear brand sponsoring a number of engagements, like special events, personal-styling events, and community-building gatherings.
In the Venn diagram connecting fashion and sports, athletes fall smack dab in the middle, with players of all concentrations showing up far more frequently at big-deal industry events. Formula 1 star Lewis Hamilton, known for his sharp tailoring, bought a table at the 2023 Met Gala to host a trio of Black designers. Tennis great Roger Federer collaborated with fashion darling JW Anderson on a buzzy Uniqlo range. And Serena Williams did announce her retirement in Vogue, after all.
A Winning Partnership
"Sports and fashion have been intertwined for centuries," says GQ Style Editor Yang-Yi Goh. "Button-down collars were developed in the 19th century for polo players who didn't want their collars flapping up in their faces as they rode. The piqué polo shirt was invented in the 1920s by tennis great René Lacoste — aka 'The Alligator' — who wanted a more comfortable, breathable kit for the court. Air Jordans practically invented modern sneaker culture in the 1980s and 1990s."
High-heeled Air Jordan sneakers at Copenhagen Fashion Week.Jeremy Moeller/Getty Images
Rene Lacoste in his signature shirt, circa 1925.Keystone Features/Hulton Archive/Getty Images
A women wearing Stan Smith sneakers in Paris.Edward Berthelot/Getty Images
It's not that athletes weren't always considered style icons or business mavens. American tennis player Stan Smith, for instance, helped to establish Adidas' foothold on the footwear market with his namesake sneaker in the 1970s and 1980s. But sports today have something even more lucrative than Grand Slam titles working in their favor: social media, which puts more attention on what star athletes are wearing than ever before. Goh offers the example of having your clothes worn by an NBA player in the pregame tunnel. In fact, he explains, it's some of the best possible publicity you can get.
For many years, it was a rare occurrence to see anything resembling high fashion in these no-frills, behind-the-scenes spaces. But that had all started to change around 2017, when LeBron James and the rest of his Cavaliers team arrived for home games in the playoffs wearing matching Thom Browne suits. And as of late, more than a few other athletes have turned arenas and the areas around them into their personal catwalks: Italian tennis pro Jannik Sinner made history this summer as the first player to receive permission to carry a nonwhite bag onto the court — a luxe light brown Gucci carryall that nodded to his partnership with the brand. And Venus Williams recently strolled into the U.S. Open in a pitch-perfect mix of Willy Chavarria, Alaïa, and Prada (not to mention Bulgari diamonds and an IWC watch) that would feel right at home outside the shows at fashion month.
"We wanted a look to reflect Venus' love and respect for tennis — as well as fashion. Something as bold and refined as her," stylist Solange Franklin, who worked with Williams on the outfit, tells TZR via email. "Venus has now effectively launched tennis tunnel fashion. We're excited to see who follows suit."
This shift toward sports stars as fashion muses is also of particular interest to Chicago-based Azeeza Khan, the founder of her eponymous womenswear label Azeeza and longtime collaborator with Nike. "The talent that comes from women athletes is the most diverse, the most inclusive, the most dynamic," says the designer, whose A-list clientele ranges from the likes of Beyoncé to Barbra Streisand. But it is female players, like Las Vegas Aces forward Candace Parker, who she finds most invigorating. "It's a break from the kind of cookie-cutter influencer we're used to."
Khan is on to something: Athletes of all gender identities offer something new to fashion retailers, and that's a new audience. Sports stars have become "heroes of pop culture," journalists Lucy Maguire and Laure Guilbault wrote for Vogue Business in June, and seating athletes alongside buzzy pop singers and A24 darlings can help brands broaden their reach and differentiate from their peers.
Take Memphis Grizzlies power forward Jaren Jackson Jr., who, at just 23, has already become a front-row fixture for labels like Valentino, Zegna, and rising label Taakk, founded by Issey Miyake alumnus Takuya Morikawa. Though Jackson may not yet have the widespread name recognition of fellow NBA stars LeBron James and Russell Westbrook (both of whom, by the way, could be found at Louis Vuitton's Spring 2024 Menswear show), he's still a known powerhouse, winning the league's 2023 Defensive Player of the Year. To know Jackson is to know the NBA; of course, that would be appealing to luxury fashion brands angling for new eyeballs.
An Arena Of Influence
The question remains, though, whether fashion's latest sports fixation is trickling down to everyday consumers, even those who may not classify themselves as athletically inclined. Goh, for one, certainly sees this happening, and across multiple sports franchises.
Soccer jerseys are having a big moment right now, he notes, crediting the so-called Blokecore trend that exploded on TikTok, amplifying the subculture of generally unstylish, U.K.-based "football" fanatics. And in 2022, GQ named "Tennis Vibes" its Trend of the Year, after the major impact the sport's preppy style had on both designer collections — from Miu Miu to Dior — and the way individuals are dressing in general.
Influencer Molly Chiang dressed in Miu Miu.Edward Berthelot/Getty Images
Dior Spring/Summer 2022Pascal Le Segretain/Getty Images
And then there's the somewhat more literal interpretation, which sees the fashion lexicon adopting utilitarian, technical sportswear items as its own. Teeny-tiny track shorts emerged as the trend du jour last summer, with the gym-class-ready bottoms cropping up across Tory Burch, Chloé, and Etro. On the other hand, flirty tennis skirts — which have been a design classic since the '60s — have found new life off the court, be it via Gucci's ongoing collaboration with Adidas or Miu Miu's now-ubiquitous micro-mini version.
Rugby shirts have transformed from boarding-school staple to a versatile downtown essential, to be styled alongside baggy boyfriend jeans, like Rihanna, or with a leather moto jacket, à la Hailey Bieber. Meanwhile, beloved New York City womenswear brand Batsheva has repurposed vintage jerseys into its tried-and-true frilly, homespun designs. There's really, truly something for everyone.
"The fashion girl has always been incorporating sportswear into her wardrobe, whether or not it was made for her," says Khan, whose now-iconic style formula is best exemplified by a hyperfeminine dress — one of her own, of course — paired alongside Nike sneakers. "She now just has a lot more options. My husband and I 100% share wardrobes in our athleticwear."
Khan's word choice here is intentional: "athleticwear," not "activewear" — and certainly not "athleisure." Emerging out of the early 2010s as a hybrid style of exercise clothes, athleisure is now a verified, and socially acceptable, wardrobe staple; a Market Research Future report anticipates the category to surpass $842 billion by 2028. And while the uptick in sporting apparel is distinctly different from that of athleisure, one is an evolution of the other.
"Athleisure paved the way for what we're seeing now, certainly," says Goh. "Once people got more comfortable with mixing comfortable athleticwear into their everyday wardrobes, it wasn't too far of a stretch for them to start wearing jerseys and warm-up jackets and other sports gear casually as well."
Game, Set, Match
Retailers are cashing in, tapping sports leagues to bring tried-and-true merchandise to new, more fashion-minded consumers. The NFL has linked up with Boss and BaubleBar, and the NBA has established collaborations with the likes of Louis Vuitton, Rowing Blazers, and Canada Goose.
And then there's the MLB, which, in addition to high-traffic partnerships with Gucci and Polo Ralph Lauren, is now turning its attention to Lele Sadoughi, the New York-based jewelry and accessories label known for its maximal knotted headband. Enter the brand's MLB capsule, a range of 18 headbands decorated with official logos from nine teams, with more to come next season.
"We saw a need in the market to offer an elevated take on classic sports memorabilia, and working with MLB has given us the opportunity to use licensed logos and motifs and add our signature embellishments and embroideries to our classic headband to give our customer what she wants: something collectible that is meaningful," says Lisa "Lele" Sadoughi, whose company just opened its fourth retail location within two years.
Shoppers, she says, are thrilled: Customers have been asking for more sports partnerships since the brand debuted its sports-themed Varsity collection, consisting of $175 headbands embellished with 14-karat charms like golf drivers and tennis rackets.
Collaborations like Lele Sadoughi's with the MLB make for good publicity, but are they converting fashion folks into longstanding sports devotees in any real tangible sense? Goh isn't so sure.
"I don't think the average fashion person is getting more into sports because of a Gucci x Yankees collab, nor will the average sports fan suddenly get really into fashion because of it," he explains.
For sports fans and fashion consumers alike, Goh says, it's chicer to stick with the basics and buy into "standard merch" from one's favorite team. But just because a classic MLB cap is "always going to look cooler" than a limited-edition designer interpretation doesn't mean there's not room for the fashion sector to expand into sports' territory. And if there isn't room, well… It's time to make some.
After all, these are two of culture's most powerful forces — it was only a matter of time until they would join up. The only variable now is what form the crossover will take. Because as anyone who's ever seen a top-of-the-ninth-inning home run — or an unexpected guest on the runway — will tell you, nothing can surprise and delight quite like sports and fashion.