Wanna Stick To Your Workout Routine? Adopt Ally Love's Genius Rule
This is the key to consistency.
@allymisslove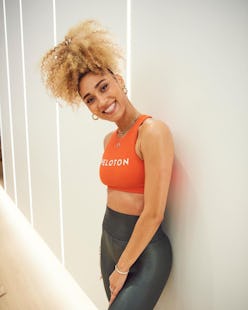 Step By Step
We may receive a portion of sales if you purchase a product through a link in this article.
Sometimes it's the smallest changes that can make a big impact. This rings especially true when it comes to one's health. In TZR's series Step-By-Step, tastemakers speak to the minor moves that can lead to mighty changes.
As one of Peloton's premiere and most popular instructors, Ally Love lives and breathes health and fitness. In fact, just hearing about her jam-packed days of workouts and wellness-related responsibilities (she's also an in-arena host for the Brooklyn Nets, CEO and founder of women-empowerment platform Love Squad, and a regular lifestyle contributor for TODAY) makes me feel like I need a nap. "A lot of people would call me busy," says Love on a recent Zoom call. "I try not to call myself busy. I say that I'm very productive. I try not to overload myself, but keeping in mind that energy is contagious, so on a day that I have a lot, I do put more in so I can keep it rolling and keep it moving."
Keep it moving, indeed. Those who've huffed and puffed — and danced — through one of Love's cycling classes know that contagious energy is certainly apropos when describing the health coach. Her pumped-up themed rides that range from '80s Pop and Y2K dance parties to Whitney Houston and Beyoncé sessions are now the stuff of Peloton legend, with hundreds of thousands of members clipping in daily for an endorphin boost with the New York native.
Which begs the question: how does one manage to do so much at such a high level every day? Well, for one, Love explains that a strict sleep schedule is essential for the early riser (she's up as early as 4:30 a.m some days). "I go to sleep every night at 9:30 p.m., and I'm in bed usually by 9:15," she explains, noting breath work as a key component to helping her calm her body and mind at the end of a grueling day. "My body's on a great clock. I use tools like the Oura Ring and I'll take Natrol so that I can actually relax on those days that I'm really busy and my mind is going."
And, yes, even fitness instructors need a break from their regularly scheduled workout program or life in general, and Love is no exception. "There are many days, just like anyone else, that I don't want to do these things," she says. "I don't want to work out or I don't want to do breath work." And while the health coach believes in giving oneself "grace," she sticks to a strict rule that keeps her from creating negative patterns or falling off the fitness wagon. "It's called 'never two in a row,'" she explains. "So basically it's fine to miss a day of whatever your routine is, but try not to do it two days in a row. It allows myself grace but also gives me enough flexibility to stay on track."
Another key component to keeping her energy up and her body moving? Hydration. The instructor admits this tip seems "basic" and "boring" at first, but swears by drinking about nine to 10 cups of water a day. "All the things that we put in our body, it does us no good if we are not properly hydrated in terms of digestion, in terms of processing," she says. "It also evens out the body temperature, which is great, and lubricates the joints [which is helpful when] I am working out outdoors a lot more in the summer."
To help her stick to this habit, Love jazzes up her H20 with fruit or veggies for added flavor and nutrients, favoring watermelon and cucumber during the warm weather months. She explains that staying hydrated has been a game-changer in keeping her energy level throughout the day, particularly in the afternoon when the mid-day slump can hit so many of us. Those who work out in morning are especially susceptible to this afternoon decline, so post-workout water refill is essential, she says.
"You know how most people, around 2:00 p.m., they get really tired? I realize when I'm not hydrated, then that could actually be one of the reasons of me feeling a little sluggish and experiencing a bit of brain fog," she says. "I'm like, 'Do I need a nap?' No, I'm just not hydrated."
Words to live by.