Looking For Courthouse Wedding Dresses? I Found 18 Instagram-Worthy Options
Let me do the work for you.
Monique Lhuillier/Jose Villa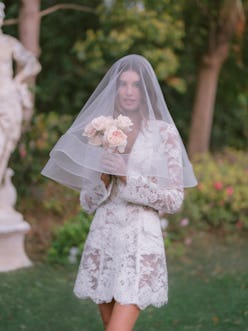 We may receive a portion of sales if you purchase a product through a link in this article.
I was texting with a friend last week about buying a courthouse wedding dress and we were both lamenting on how hard the shopping process was. There are tons of options out there, don't get me wrong, but tracking down the one garment that fits your silhouette and personality, works for the weather, and suits the city hall setting is quite the task. Since the environment is not quite as elaborate and fancy as an actual wedding venue, your look doesn't need to be a floor-grazing dress with a cathedral veil, but for most brides-to-be, including myself, we still want to dress elegantly for the occasion. (Personally, I also wanted a look I could rewear after my civil ceremony — oy.) So, where does one start? First, it helps to define your personal style and look outwardly to celebrities, friends, siblings, and influencers with wardrobes you admire. From there, you can narrow down the aesthetic you're going for.
Next, spend some time going into stores and looking at different brands online to see their selections — the amount of late-night scrolling I did on Net-a-Porter, Farfetch, Matches, and even The RealReal eventually paid off. Once you have a good selection of pieces, try them on then ask your loved ones what they think (or even your partner, if your outfit isn't a secret). This part is important because, for online purchases, most of the time, the item won't always look as pictured. You may be surprised that the long sleeved-dress you love online actually makes you look matronly IRL (this happened to me) or that a design you were initially 50/50 about turned out to be "the one." It took three tries before I found the dress that felt like me, so don't worry if you're on your 10th piece and getting nowhere: The right option is out there!
To get you inspired, I've gathered some of the best courthouse wedding looks I've found in my online searches — broken down by aesthetics — ahead.
Romantic & Dreamy
You love rom-coms, you love lace dresses, and you love being in, well, love. Should this describe you to a T, then perhaps you're a romantic bride. And as such, the dreamy dresses below will catch your eye. Fun fact: Actor Naomi Watts recently wore the Oscar de la Renta number to her own courthouse wedding.
Tailored To Perfection
If you're drawn to smart, well-cut, and fitted clothing (think brands like The Row, Peter Do, Filippa K), you may want to aim for a similar vibe in your bridal pick. Look for dresses that have well-defined necklines and silhouettes that hug your body just so.
Bringing Sexy Back
Add a sultry element to your civil ceremony look by selecting dresses that have strategically placed front, back, or side cutouts. Additionally, if you're not 100% committed to the naked dress, cheat the look with designs that have delicate lace overlay, giving you that bit of coverage while still having a peek-a-boo effect.
Quiet Elegance
If you want to go super simple, but still feel chic, look for pieces that come in luxe silky fabrics. The material will languidly drape over your body, giving you that sort of effortless Kate Moss or Cindy Crawford mood. (Crawford actually wore a mini lace slip on her big day!).
Vintage Memories
If you're a bride who loves perusing through a thrift store or flea market and finds outfit ideas in decades past, a vintage wedding dress will be right up your alley. Check out your local consignment shop for options and browse through places like Etsy for truly one-of-a-kind items. Alternatively, Rixo's whole bridal section is filled with vintage-inspired designs.
Make A Statement
Like to make a memorable entrance? Opt for designs that are bold and playful. The details to look out for include feathers, giant appliqués, voluminous tulle or sleeve designs like this Roksanda number — maybe you consider something in your favorite color that's not white/ivory/or cream. It's your wedding day, so do as you please!