Coco Bassey's Secret To Effortless Style Is Comfy & Quality Pieces
She has some shopping recs for you.
Courtesy of Coco Bassey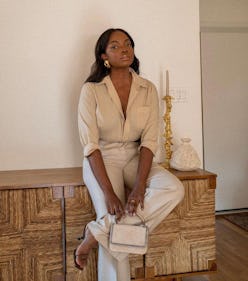 We may receive a portion of sales if you purchase a product through a link in this article.
Few feelings ignite more panic than running behind because you don't know what to wear. File away some fail-safe outfit ideas to fall back on with TZR's Fashionably Late series, where we tap our favorite tastemakers for the looks they reach for in a rush — and, naturally, the exact products you need to follow suit.
Take a look at Coco Bassey's Instagram page and you'll see that the content creator is the master of easy, no-fuss style. Everything she wears — say a white dress at a Tom Ford beauty event or T-shirt and jeans while painting a wall — feels impeccably laid-back yet well thought out. According to Bassey, the secret to how she achieves this "I'm not trying too hard" vibe lies in two adjectives that define her personal style: elevated comfort. In other words, when she's wearing pieces that don't cause her pain, she looks and feels her best. "I'll always opt for a chic low heel over six-inch stilettos, or something flowy and breathable over anything that's too constricting," she tells TZR over email.
Moreover, Bassey says she'll invest in luxe, quality items like a Bottega Veneta pump or a nice pair of jeans, to give her outfits a polished finish, even when she's just in basics. As for specific silhouettes that channel her signature aesthetic? You'll find them in her go-to outfit combination. "I love a pair of wide or straight-leg pants, paired with a figure-hugging top," she says, giving one example of a look she keeps coming back to. "Loose bottoms are always so easy to throw on, and wearable in any kind of weather. Plus, a bodycon top keeps the outfit [feeling] intentional, feminine and chic." For her finishing touches, the influencer gravitates toward statement earrings (and owns a lot of them).
There you have it: Bassey's approach to effortless dressing is really, well, effortless! Ahead, the creative shares several essential pieces you'll need to achieve the same vibe, wherever the day takes you.