We're Living In A Golden Era Of "Cool Girl" Bridal Brands
No princess gown, no problem.
The Own Studio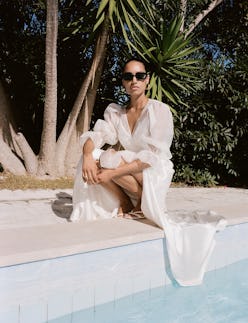 We may receive a portion of sales if you purchase a product through a link in this article.
The wedding industry offers a striking reflection of what's happening with culture at large: buttoned-up, conservative times yield formal affairs, while wilder, more casual moments in history are filled with fly-by-night elopements (see: all the celebrities who married in Vegas during the early 2000s). But if you ask me, the seismic events of the last decade — like, say, two years of on-and-off-again shutdowns and a looming recession — have actually made getting engaged vastly more appealing. The uncertainty we're living with has turned most ceremonies into more intimate affairs with extra personal touches; meanwhile wedding dresses and attire have never been more unique or, to put it bluntly, downright cool.
In the last year alone, fashion girl favorite brands, including HVN by Harley Viera-Newton, Staud, Hill House Home, Nensi Dojaka, Christopher Esber, and so many others, have all launched bridal collections, breathing modernity into a fusty shopping sector ready for change. "When I was getting married, there were way fewer options to choose from," Loeffler Randall founder Jessie Randall tells me. She recently introduced a bridal capsule for her brand filled with charming leather bow embellished sandals and clutches adorned with ostrich feathers.
One possible reason for this industry shift? The age of those getting married right now. "Our clients are marrying later in life, planning smaller and more intimate weddings, with many couples paying for weddings themselves," says Lein founder Meredith Stoecklein, who just relaunched her cult favorite bridal brand after taking a lockdown-induced pause on design. As someone who recently became engaged in her mid-30s, this theory resonates with me. I have a stronger sense of who I am than I did a decade ago, and the notion of buying an ultra-formal gown feels misaligned with my personality (and with my 50-person wedding, no less!).
That said, I'm sure I'm not the first one to feel this way: Women have been getting married past their 20s for a long time. So why has there been such a noticeable gap in the market until very recently? "I believe the evolution of marriage and weddings is why historically it's been difficult for brides to find attire that's aesthetically different from the traditional look," says Neous founder Vanissa Antonious, who just added a "Modern Bridal" line to her accessories label in April this year. "Brides are looking for pieces that they can wear again that put more of an emphasis on comfort and sustainability rather than ostentatiousness."
On the other hand, Over The Moon founder Alexandra Macon points to the lockdowns of 2020 and 2021 as a major factor in why it's suddenly so much easier to find nontraditional wedding dresses. "Brides saw how weddings were downsized and postponed during [that time] and realized that the so-called rules don't matter anymore, and everything can be rewritten," she points out. "They have found ways to put their personal stamp on their wardrobe as well as the wedding."
With this newfound realization — that you don't actually need to have a traditional gown that requires several rounds of tailoring and that you likely won't wear again — brands have recognized a lucrative opportunity. "[In 2020 and 2021], both high-end and high-street designers were quick to catch on to the fact that the aisle had become the new runway — fashion shows weren't happening, but small downsized weddings were," Macon says. "This ushered in a new class of designers with an expansive price range catering to brides."
Although plenty of designers have launched bridal to meet the evolving needs of their customers, some of their decisions came from personal places as well. "Many of these brands' bridal collections were inspired by their founders' own difficulty trying to curate their own wedding wardrobe," Macon points out. Take The Own Studio, for example, a London-based bridal label known for its simple, effortless capsule wardrobe. "I was getting married [in 2015] and couldn't find anything that felt sleek and contemporary. [My co-founder, Rosie,] was a bridesmaid at the same time, and all the shapes and fabrics felt rather old-fashioned," co-founder Jess Kaye says. "It felt like the bridal industry needed a shake-up. We couldn't believe there wasn't something out there to suit more modern tastes." Around the same time, Stoecklein was tasked with designing a reception dress for a friend. "I was studying design at Parsons, and a friend asked me to design a dress for her to change into after her traditional ceremony dress," she says. "She wanted a dress that felt like she pulled it from her closet, in white. This was in 2016, and there were not really brands approaching bridal with a ready-to-wear fashion aesthetic in mind."
Bridal's new wave is also about far more than dresses. Brands in categories such as footwear, handbags, and accessories are also offering "cool girl" options for brides-to-be. San Francisco-based label Kamperett, adored for its floaty silhouettes, launched a bridal accessory line after clients continued to ask where they could buy the pieces styled in the brand's shoots. "They are each hand-made by the most talented craftsmen and women, including couture hand-beading in Paris," co-founder Anna Chiu says of her assortment of floor sweeping organza bows and intricate headbands and crowns.
Of course, there's also the events surrounding the wedding (and Instagram documentation of them) to consider — even small nuptials tend to involve a rehearsal dinner or welcome drinks, after all. "One thing is for certain, gone are the days of a simple ceremony followed by a reception. Now, weddings across the map are multi-day festivities that stretch over an entire weekend," Macon says. Designers have undoubtedly noticed this trend and are creating capsule collections to dress brides for several occasions. This was the very premise for Olivia von Halle's bridal collection, an edit of five perfect pieces to wear throughout the wedding experience. "For years, our classic Coco Pajama in ivory has been a go-to for most Olivia von Halle brides," von Halle says. "We wanted to take this one step further and create pieces that will have you covered from the getting ready moment, to the bridal party, and all the way to the honeymoon."
The move away from traditional bridal wear also means more inclusive price points. (As a mid-30s bride, this is especially appealing to me — I'd rather spend $5,000 on a vacation than a gown.) Take Staud, for example, which launched a budget-friendly bridal collection a couple of months ago composed of 15 pieces ranging from $295 to $795. Or look to Paris-based Ba&sh: It just debuted a bridal capsule this past March with a max price-point of $595. "Our capsule ranges in price so you can mix and match without having to spend too much to find your look," the chain's CEO of North America, Desiree Thomas, says. "In the coming years, we'll continue to see more brides looking outside of traditional wedding brands for something a bit more unexpected and personal. Having pieces she can invest in, and even wear again."
This ethos of longevity is at the heart of The Own Studio's capsule collection model. "From our own experiences, and from talking to the women around us, we knew brides-to-be wanted to invest in cool outfits they could wear long after the wedding," Kaye says. "Our collection of sleek separates can and worn together or separately, and brides really love the versatility." Same goes for the accessories. "I love that so many people wear our wedding shoes again for other events, and for many many years," Randall says.
Looking forward, von Halle predicts the bridal landscape will continue to evolve. "We will probably see brides moving away from the most traditional rules and continue to look for more edgy and fun pieces," she says. This could be through new colors, more daring silhouettes, or even in accessorizing. "Brides are now wearing tailored suits and pencil skirts and are looking for shoes that complement those silhouettes," Antonious says, citing Neous has seen an increased demand for bridal flats. "I expect that over the next few years, it will only become more open-minded."
For those recently (or soon-to-be) engaged, continue below to shop TZR's edit of bridal brands that have their finger on the pulse. From sleek slip dresses and festive separates to architectural heels and romantic hair accessories, there's enough here to get you through every wedding celebration while completely feeling like yourself.