PSA: The Chicest Wedding Dresses Right Now Are All Midi Length
@markarian_bride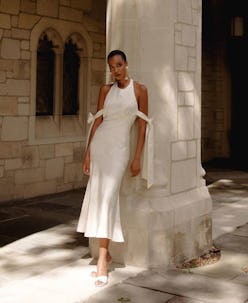 We may receive a portion of sales if you purchase a product through a link in this article.
Every year ushers in a new wave of wedding dress trends for brides-to-be. But if you're planning to get hitched in 2024, it's not too early to seek out of-the-moment styles for your special day. If the industry's top bridal brands — Amsale, Markarian, The Own Studio — are any indication, the most thrilling designs of the moment include pieces with bow and feather detailing, matching sets, and unexpected colors like red and blue. But perhaps the most compelling trend of the moment is the season's abundance of midi wedding dresses, which range from elegant column gowns to playful feather-adorned looks (and everywhere in between).
Ankle-grazing silhouette have a strong track record for making brides look incredibly chic. Take, for instance, Audrey Hepburn's iconic wedding look in 1954. She tied the knot to fellow actor Mel Ferrer while wearing a Pierre Balmain tea-length ballgown, which hit just about three to four inches below her knees. Following in her lead, Zoë Kravitz donned a voluminous, ballerina-inspired midi at her Parisian wedding in 2019. Meanwhile, actor and cool-girl Chloë Sevigny rocked a bodycon black calf-grazing dress (yes, black — this is Sevigny we're talking about) at her secret ceremony with Siniša Mačković in 2020.
See the common thread here? Hollywood's most fashionable women love a good midi wedding dress, and after seeing the photos and shopping options below chances are you'll be on board, too. Keep scrolling for TZR's favorite options of the moment.