16 Colorful Handbags That Make Me Happy When The Weather, Uh... Doesn't
Storage that doubles as a mood-boast? Sign me up!
Courtesy of Natasha Marsh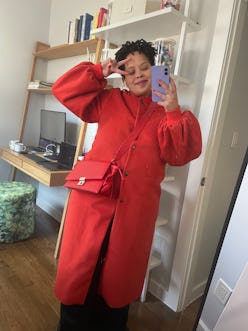 We may receive a portion of sales if you purchase a product through a link in this article.
Don't hate me, but, I spent the month of December and half of January lounging on the beaches of California and Mexico eating pitaya bowls, blissfully unaware of the chilling winds that occurred outside my Manhattan apartment (eye roll fully warranted). It was magical. It was bliss. And then I returned to New York and things changed. Trading in sunkissed mornings and humid evenings for gray days (and even grayer nights) has been challenging to say the least. My one saving grace? My bright, sparkly, and colorful handbag collection.
I've leaned heavily on carryalls with fringe, embellishments, and intricate shapes to fully improve my mood when the forecast is filled with non-stop downpours, chilling winds, and noisy thunderstorms that make me want to stay in bed. Sure, my insulated puffer jackets, knit beanies, and rain boots have aided in keeping me physically warm. But nothing in my wardrobe has quite improved my spirits this dreary season as much as a cheerful, mood-boosting purse that also happens to hold my many essentials (phone, wallet, keys, pen, gloves, headphones, and an iPad).
Shop my favorite carryalls ahead (including pieces I own and have on my wishlist), filled with options to brighten up any outfit and mood — without compromising on function.