Zoë Kravitz Just Put An Edgy Spin On Audrey Hepburn Bangs
@zoeisabellakravitz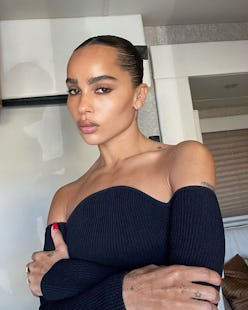 The cat's been out of the bag for a while — the announcement that Zoë Kravitz will portray Catwoman in the highly-anticipated Batman reboot stirred up serious excitement for more than just comic book fans. Considering Kravitz's singular brand of cool, it was certain that Kravitz would undoubtedly serve sleek, sexy looks both in the film and during all movie-related engagements. Zoë Kravitz's short bangs, bold brows, and sensual Saint Laurent cutout gown at one of the film's first screenings just prove it — Kravitz was born the play the feline femme fatale, and fans are already screaming for a solo spinoff.
Kravitz's hair, slicked down on the sides to make room for the short, piece-y bangs, can't help but draw an immediate comparison to Audrey Hepburn's own famously short fringe. Considering both women's effortless elegance and penchant for feminine, French-influenced fashion and beauty, it's an apt one. In Kravitz's case, the bangs look freshly cut while the rest of her shoulder-length hair is pulled back into a very sleek, tight bun. Thanks to the tamped-down style, her bangs, bold brows, and subtle cat-eye flick (of course there's a cat-eye!) enjoy even more attention.
While credits aren't immediately clear, Kravitz's go-to hairstylist, Nikki Nelms, has been traveling with the star through Europe for promotional events and has devised obsession-worthy hairstyles for all of them — it's safe to say she's behind this side-swept look, too. Kravitz's makeup is relatively minimal, with most of the drama concentrated on her full, fluffy brows (a Kravitz signature) and the liquid liner giving her eyes the subtlest lift. Her sharp cheekbones feature only the faintest wash of color while her lips are kept nude and matte.
Notably, though, Kravitz's on-display decolletage is absolutely gleaming, undoubtedly the work of a first-rate illuminator, body balm, or another glow-inducing agent. Nina Park, her usual makeup artist, is also on-location with Kravitz and Nelms, meaning there's a solid chance she's behind the softly sexy, minimalist makeup moment.
With her portrayal of Catwoman, Kravitz follows in the footsteps of several other especially stylish stars, including Halle Berry, Anne Hathaway, and Michelle Pfeiffer. Though the production company's kept most details under wraps, early trailers show Kravitz-as-Catwoman in an ultra-short pixie cut and an assortment of disguise wigs to help obscure her identity.
With plenty more promotional events for The Batman in the works, you might want to keep your notifications on — Kravitz could be dropping more hair, makeup, and fashion inspiration at any moment.