So-Easy Wedding Hairstyles Inspired By Audrey Hepburn, Grace Kelly, & More
Moviestore/REX/Shutterstock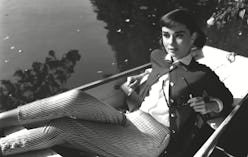 These days, brides-to-be look to Kate Middleton, Kim Kardashian, and Meghan Markle for wedding beauty inspo, but there are many to consider from decades past, too. Whether they realize it or not, many of today's celebrities have copped their looks from brides of bygone times. You simply can't overlook the archives of iconic celebrity brides (think: Audrey Hepburn and Grace Kelly) when searching for the perfect wedding hairstyle ideas.
Have you ever noticed that the cap veil Kate Moss famously wore to her 2011 wedding was reminiscent of the flapper-inspired bridal style of the '20s? Before perms became all the rage in the '80s, the '50s called for short pixie cuts, followed immediately by the ultra-long styles of the '60s and '70s.
They say fashion is cyclical, and that applies to beauty trends, too. From Grace Kelly to Diana Ross, ahead are six of The Zoe Report's favorite iconic celebrity wedding hairstyles to inspire your bridal look.
Audrey Hepburn's Flower Crown
In 1954, Audrey Hepburn married director Mel Ferrer and wore one of the most memorable wedding looks of the century. She opted for a high-neck, chiffon-sleeve Balmain gown and her signature bang-clad pixie cut was adorned with the sweetest flower crown made of white roses — a vintage version of the popular hairpieces of today.
Grace Kelly's Taught Twist
Perhaps the most recognizable wedding look of all time is Grace Kelly's when she exchanged vows with Prince Rainer III in 1956. The lacy, long-sleeved Helen Rose gown she wore is still being emulated (even by Kate Middleton) more than 50 years later, and so is her hair. The Oscar winner wore her hair in a taught bun adorned with a thick lace-banded veil. Miranda Kerr copied the look almost exactly in 2017.
Diana Ross' Sleek Low Bun
Before Meghan Markle made the low bun her signature style, Diana Ross wore her own version of the look on her wedding day in 1985. You might have expected the singer to sport her natural curls seeing as big hair was so on-trend back then, but she instead slicked it back into a glossy chignon. She wore a tiara with her veil and baby's breath tucked into each ear.
Elizabeth Taylor's Flowery Braid
Nobody has had as many wedding looks as Elizabeth Taylor. 1964 was the year she married her fifth husband (out of eight), Richard Burton. The legendary actor wore a yellow chiffon babydoll dress, but the real showstopper was her hair. Taylor wore her long black hair in the most whimsical wreath-wrapped braid that started at the crown of her head and reached the small of her back. The floral accessory was made from Roman hyacinths and Lily of the Valley flowers.
Sharon Tate's Ribbon-Adorned Waves
Liz Taylor wasn't the only one incorporating botanical accessories into her bridal hairstyle. You might recognize late actor Sharon Tate's wedding look from the very similar hairstyle Mandy Moore sported in Nov. Tate pulled her hair back from her face with a headband and left it down in bouncy, voluminous waves. The look was full of flowers and ribbons in pink and white hues, too.
Bianca Jagger's Hat-Laden Curls
The '70s was a decade for long, cascading hair, so it only made sense that Bianca Jagger wore hers down in voluminous curls on her wedding day in 1971. The unconventional bride opted for a skirt suit instead of a gown. Her dark hair laid naturally with bouncy, curled ends under a wide-brimmed Yves Saint Laurent chapeau.