Of Course Zendaya Found The Single Best Shade Of Red Nail Polish For Summer
She's saving us all some serious legwork.
@zendaya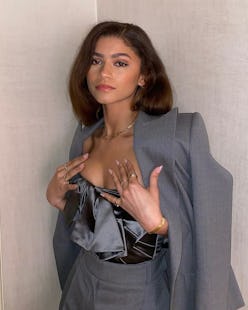 We may receive a portion of sales if you purchase a product through a link in this article.
If eyes are the window to the soul, then manicures are a mirror for your moods. Glance around at the nail salon or at your friends' latest looks and you'll start noticing the link between polish color and vibe curation — it's like the Rosetta Stone for acrylics. Further cementing her love for square nails, Zendaya's red manicure is as fiery and summertime-classic as they come. As the star continues to pop up around the world at all sorts of high-profile events (who could forget this game-changing Bvlgari show moment?), her polish color choices feel all the more consequential. Judging by her newest set, it looks like Zendaya could be gearing up for some serious jet-setting fun and excitement. Or maybe she's just bored and wants to try TikTok's controversial "red nail theory" out on boyfriend Tom Holland in between filming — fun fact, the couple even share a manicurist.
Celebrity nail artist Lisa Kon posted the first look at Zendaya's fresh new manicure, an impossibly glossy cherry-red that doesn't veer too warm or orange, nor too blue-toned — one of the biggest pitfalls when selecting a summertime shade. Kon, who also works with other A-listers like Kate Moss and Kourtney Kardashian, has worked with Zendaya for ages, including creating her recent square-shaped French tips that managed to steal the show at an NBA playoff game. Zendaya's red nails are just as classic as her French manicure, made to feel a little '90s-chic with those distinctive, squared-off tips.
Kon shared on her Instagram that she used her eponymous gel nail polish line on Zendaya in shade #14 Scarlet. Bright and balanced, its ultra-glossy finish is especially reflective in bright light. Just days after getting her new manicure, Zendaya was spotted out in Los Angeles with her assistant, red nails gleaming in the hazy May sun.
The last time Zendaya was at the nail salon, she might have been joined by her beau for a couple's mani moment. At the beginning of May, gave Holland a "dry manicure" that focuses on clean cuticles, healthy bare nails, and an otherwise all-over groomed feel. Kon posted Holland's nails and Zendaya's previous set, that cool square-shaped French manicure, within the same week.
Couples' manicures is looking like the next big beauty trend among Hollywood's most loved-up pairs, too. Just a few weeks ago, Kendall Jenner and Bad Bunny wore his-and-hers "lip gloss nails" to yet another basketball game, while Dua Lipa and ex Anwar Hadid vacationed with complementary polish colors in shades of green.
Even if it takes Holland a while to come around to a full-fledged matching moment with some scarlet polish of his own, you can score Zendaya summertime-fine red nail look with her exact shade below.