Zendaya's Square-Tipped Nails Make Her Look Like A Nancy Meyers Movie Protagonist
Now we need a real-life collab, too.
@zendaya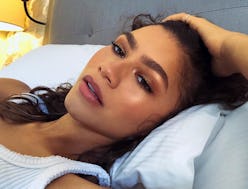 Old-school Zendaya fans remember her original Instagram posts from the 2010s, freewheeling and irreverent and totally representative of her niche micro-generation. One of the most memorable photos to this day is a shot of her shoe-clad feet: one colorful Jordan, one strappy Louboutin heel. That's visual dichotomy has always been part of Zendaya's aesthetic power, and it surfaced once again at a basketball game she attended with boyfriend Tom Holland. There in the stands, Zendaya's square-tipped French nails stood out against her crisp T-shirt, retro eyeglasses, and dainty layers of gold jewelry — a pretty fusion of comfort and style. As short, square-shaped French manicures enjoy a well-deserved comeback from the depths of the late '90s and '00s, it's stars like Zendaya who have the power to push the trend over the edge.
At the NBA game, Zendaya brilliantly demonstrated the art of sports-game beauty, with her short, bobbed curls spilling down from a soft-bill baseball cap and minimalist makeup — only a bit of gloss or shiny balm is visible on the Euphoria star. It's her nails, though, that really pull focus. Over the past few years, Zendaya's seemed to favor trendy polish shades applied to her natural nails, but her short, square French manicure — the work of celebrity manicurist Lisa Kon — looks to be the result of dip powder or a gel extension.
The elegant yet sporty feel of short, defined French tip nails look right at home with Zendaya's playoff look, and could easily be transposed into a country club tennis game or a Nancy Meyers-core Hamptons house — can't you just see Zendaya floating around an on-screen beach cottage in some luxe, linen-blend trousers with these nails?
She wasn't the only one to flex her style skills courtside, though. The Warriors-Lakers series has also attracted Kim Kardashian, Nia Long, Adele, and scores of other celebrities, all of whom turned the NBA playoffs into the social scene of the season. In fact, Kardashian is actually on Zendaya's same manicure wave. A true aughts-lover, she's been largely loyal to the square shape for years, leading the younger A-listers by example. Clearly, the trend is only getting started.