Kendall Jenner Abandoned Classic Summer Colors For Her Most Sophisticated Manicure Yet
@kendalljenner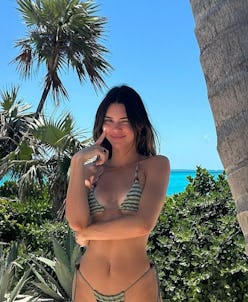 We may receive a portion of sales if you purchase a product through a link in this article.
When you've ascended to Kendall Jenner-caliber fame, even the subtlest style choices can inspired an entire trend wave. But what happens when one of the biggest stars of her generation gets an existing trend in her crosshairs? Super-viral doesn't even begin to cover it. Jenner and her newest beau, Bad Bunny, have been spotted in attendance at a few NBA playoff games this season, but their latest courtside sighting is taking their love for low-key matching to the next level with their his-and-hers manicures. Kendall Jenner's "lip gloss nails" are especially popular right now thanks to their nearly-nude color palettes and high-shine finish — and if you need further convincing to try them out on your next salon visit, just look to Bad Bunny's own lip gloss nails. The your-nails-but-better technique truly looks incredible on everyone.
Jenner and her rumored boyfriend were noticed in the crowd for Game Six of the Western Conference semi-finals, with most eyes drawn to their complementary snake print shoes. But when Jenner shared a close up shot of her nails in a selfie days later, fans finally got a good look at her sophisticatedly minimalist manicure. Square-shaped, very glossy, and lacquered in a soft beige-nude shade, they're just a few degrees north of buffed bare nails.
Even though it's among her most pared-down manicures, it's also one of the chicest. Think of the glossy nude color like the nail version of her timeless, utilitarian white tank top — a classic that goes with anything. Bad Bunny seems to agree, with his own nails looking equally glossy from his spot next to Jenner at the game. Notably though, Bad Bunny's nail color looks a little milkier than Jenner's.
Lip gloss nails first started trending at the start of spring, spotted on Jenner's celebrity peers like Jennifer Lopez. Olivia Van Iderstine, Olive & June Mani Trend Expert + VP of Content and Creative, previously described the look to TZR: "The nails look as if they you just freshly swiped them with lip gloss without using actual gloss. There's a touch of color from the sheer polish and a mega-glossy finish from the topcoat."
The easy-to-clean translucent polish means an at-home DIY is especially easy. Just look for a shade in slight contrast to your natural skin tone, a neutral beige, or a soft pink — from there, all that's necessary are tones of super-glossy topcoat. Instant glamour, and it's already got a supermodel co-sign.
Shop the lip gloss nail essentials just below.