All Of Taylor Swift's 'Eras' Are Aesthetically Distinct — That's Why They're Iconic
Journey back through each.
Kevin Mazur/WireImage/Getty Images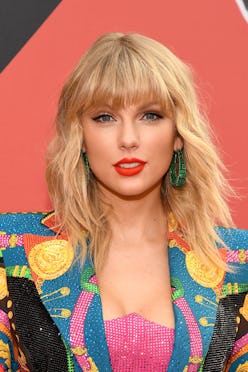 Though constant evolution is basically an unwritten rule foisted on every female pop star, Taylor Swift's ability to reinvent herself should be studied in a lab. It's actually pretty remarkable — over the course of 10 studio albums, Swift shifts her musical genre and personal style for each, but always manages to retain the core elements that hooked fans on her work (and personal life) in the first place. Those instantly-recognizable distinctions were the impetus behind her global policy Eras Tour, and double as markers of Swift's beauty evolution overall. The changes are significant enough for even casual fans to recognize, dividing her time in the spotlight into distinct aesthetic chapters.
When the world first met the young, plucky Swift, she was all about leaning into a fresh-from-the-farm country girl charm, complete with bronzed cheeks and youthful corkscrew girls. As her music matured, so did her sense of style. She's experimented with hair length and color as well as bolder makeup styles, but doesn't stray too far from her signature staples — you could draw a stick figure with blunt bangs and red lips and when shared around, nearly everyone would go, "Yeah, that's Taylor Swift."
Journey back through each of the star's eras and get acquainted with each of their beauty hallmarks.
Debut Era, 2006-2008
Upon the release of her debut self-titled album, Swift had little more than her natural curls, a comically exaggerated country accent, and a dream. The girl-next-door look was a key part of her appeal from the beginning, and she honed it with with air-dried hair and minimal makeup, both on-stage at at events.
Fearless Era, 2008-2010
Swift's big breakthrough came thanks to the Fearless album, which fetched her four Grammy Awards and a polished new look to match. She still played to her country base with smoky eye makeup and massive curls — they're just much more defined and highly glossed.
Speak Now Era, 2010-2012
The Speak Now album release saw Swift lean into a more storybook-style aesthetic, complete with major ballgowns, romantic makeup, and softer hair moments. She traded in her bright, buttery blonde for a paler, ashier shade.
Red Era, 2012-2014
If you were to draw one giant line through Swift's entire career, it would be here — both sonically and stylistically. There is the period before she cut bangs, and the period after. Throughout the Red era, cherry-colored lipstick and her long, classic fringe ruled.
1989 Era, 2014-2017
So personally significant was Swift's bob haircut that she recorded the entire event and posted it to her Instagram. She's spoken a lot about the chop over the years, equating it to a sense of freedom. That said, the real shocker from the 1989 era was any time she stepped out with her now-signature bangs pushed to the side.
Reputation Era, 2017-2019
To play into the villainous role she assumed through the Reputation era, Swift traded in her beauty signatures for their moodier counterparts. Her beloved blood-red lipstick was replaced with a deep oxblood, and the return of her spiral curls was accompanied by a new dark gold hair color.
Lover Era, 2019-2020
Lover-era Swift practically floated around in a cloud of candy-colored hearts, and she made sure her hair matched. Throughout 2019, she was often photographed with temporary pink dye worked into her hair.
Folklore & Evermore Era, 2020-2021
Both released in the early days of the 2020 pandemic, sister albums Folklore and Evermore brought with them a pared-down, cottagecore vibe that translated into the best retro hairstyles. She wore self-styled braids, ponytails, and other assorted updos, but her pair of wrapped buns would become the eras' trademark look.
Taylor's Version Era, 2021-2023
By now, you're surely familiar with Swift's re-recording passion project which requires her to dip back into all of her previous albums. But to promote them, she largely sticks to a modern version of her go-to style, including dark mushroom blonde hair and softly smoky makeup.
Midnights Era, 2022-2023
Swift's most recent studio album is a bombastic collection of pop anthems inspired by assorted midnights throughout her life. Accordingly, her beauty style this era has been a delicious mix of '70s-inspired hairstyles, face crystals, and — unsurprisingly — so many red lipstick sightings.