Taylor Swift Got Four New Piercings & Shows No Signs Of Slowing Down
What's next, a face tattoo?
@taylorswift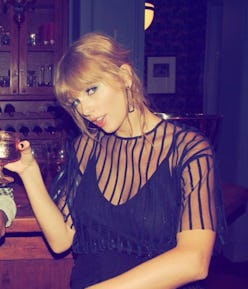 Even in her Reputation era, Taylor Swift's aesthetic has never been particularly edgy — not that it needs to be. While the singer's experimented with punkier hair color-cut combinations and daring outfits over the years, on the whole she seems to prefer her usual mix of casual hairstyles, low-key outfits, and simple makeup pairings. Something might have gotten into the star late this summer, though, suggesting a small but significant shift outside her comfort zone. Swift has new ear piercings joining her slowly-growing jewelry constellation, snaking up her lobes for a frosted-out effect that adds intricacy and depth to even her most pared-out looks. As Swift gears up for her next Taylor's Version release and the upcoming European leg of The Eras Tour, the minor but mighty tweak is a welcome change of pace.
Naturally, it was laser-focused Twitter Swifties who first clocked the piercings at a concert stop, wedged beneath her in-ear monitors. While she's worn plenty of clip-on cuffs and rings for events over the years, closeups reveal she actually had just one traditional lobe piercing on each side before the new additions. Now, Swift seems to have at least three per ear, a mix of dangling charms, hoops, and flat-laying studs. There might have only been five holes in that now-infamous fence, but there looks to be six holes in her ears now.
Robert Kamau/GC Images/Getty Images
Robert Kamau/GC Images/Getty Images
On Sept. 11, Swift was snapped heading to dinner with several of her A-list besties in tow (Blake Lively, Zoë Kravitz, and Gigi Hadid included), and took the opportunity to show off the new jewels then, too. Interestingly, other close friend Selena Gomez also recently debuted a fresh crop of ear piercings earlier this summer — perhaps Swift was influenced?
Then again, it could just be the time of year. Come late summer/early fall, doesn't everyone feel the urge to add even a little extra spice to their life? Though this is still Swift's edgiest body modification yet, don't be surprised if she eventually reveals some ink one day — something says it's not so farfetched a concept.