Taylor Swift Is Firmly In Her 'Indie Sleaze' Era — Makeup-Wise, Anyway
Gotham/GC Images/Getty Images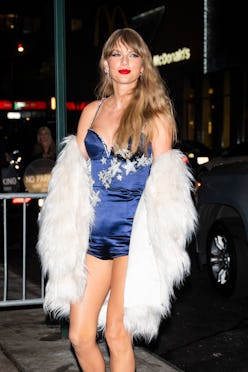 Taylor Swift is many things to many people: a musician, a muse, a marketing mastermind, and — perhaps ahead of everything else — a cultural lightning rod for just about every topical issue out there. She is a mirrorball, after all, and that extends to her fashion and beauty choices on the red carpet, in real life, and in her visual art. More often than not, Swift starts trends, but she's not above hopping on a red-hot craze, especially when it works well with her aesthetic of the moment. Taylor Swift's smudged eyeliner in her "Lavender Haze" music video might remind you of a very distinct time period, but it appears to all be by design.
In the video, Swift is seen in a series of scenes decked out in '70s-style clothes like corduroy pants and knit tops, all with her long blonde hair straightened but tousled — think an intentionally-mussed bedhead look. Her makeup largely matches that "sleepless night" vibe, especially as the video transitions to an all-night dance party. Her smudged-out, messy, and glitter-soaked eye makeup feels at once like a throwback to the day of disco and the 2010s aesthetic fondly (and nostalgically) referred to as "indie sleaze."
Marked by long, rock-soundtracked nights, high-exposure photography, and a dedication to all things Tumblr, indie sleaze has been poised for a comeback for a while now. The grungy-glam look is, as Swift proves, wildly flattering, and lends itself well to makeup beginners because it's often intentionally mussed. Of course, eagle-eyed Swift fans are always finding easter eggs and drawing comparisons between the "Lavender Haze" makeup and a similar look she wore in the video for her 2012 single "I Knew You Were Trouble." Considering that video arrived right at the tail-end of the indie sleaze movement — and that they both feature smoky dance parties — it's not too much of a stretch to link the two.
While it's still unclear which makeup artist created this fantastically glittery eye makeup, it's worth noting that Swift has been branching out with her beauty looks lately, largely with the help of Dame Pat McGrath. The legendary makeup artist is responsible for many of Swift's most intricate red carpet looks, including her crystal cat-eye at the VMAs, and even appeared in her music video for the song "Bejeweled." If you're still searching for Eras Tour costume inspo, any McGrath-made look is a perfect place to start.