All The Proof That Taylor Swift Is In Love Can Be Found In Her Latest Manicure
@taylorswift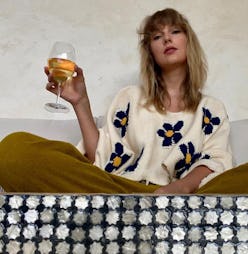 One of the most memorable scenes in Taylor Swift's Netflix documentary, Miss Americana, involves a do-it-yourself manicure moment. Applying pink lacquer for her friend Todrick Hall, she explains, "I really like having cute nails, but I really can't go in public." Instead, she started honing her at-home skills — which helps explain why Swift's mani colors are in such a constant state of flux. Her latest, though, is the most personal choice she's made in a while now. Taylor Swift's red glitter nail polish seems specially applied to match her Kansas City Chiefs-themed outfit as she cheered on boyfriend Travis Kelce at his NFL game. On its own, that's no big deal — but once Swift starts breaking out the bespoke manicures, you know she's all-in on something.
Throughout their month-long (public) courtship, Swift's off-duty style is a return to her down-to-earth roots. She's showing off new piercings, walking tall in her beloved platform boots, and breaking out all of her favorite hairstyles for their high-profile date nights. Usually, though, just a glance down at her hands is enough to indicate what project she was working on last, like gold sparkles for her latest movie premiere, or a baby blue polish to tease 1989 (Taylor's Version). But from her VIP box in Kansas City's Arrowhead Stadium, Swift seemed so far from concerned about work. There, with her red glitter polish and matching lipstick (and, in some shots, a shimmery crimson cocktail), she's just a dedicated girlfriend supporting her beau.
Fans have been especially clued in to Swift's nails since she started rolling out her Taylor's Version re-recordings. More than a few times now, she's used her manicures as easter eggs, just one of many clues that, when pieces together, indicate everything from release dates to even a potential double album. Her Eras Tour-themed nails have made the most noise. She's assigned each of her album cycles a distinctive color (1989, for example, is sky blue, while Lover is pink) and uses them to openly fuel or co-sign theories. This shot from her "Karma" music video, hinting that Reputation is the next re-recording to be announced, says it all:
Personally, this polish shift is all the necessary proof that Swift is in this relationship to win it — surely it takes a lot for her to shift away out of Work Mode and go all-in on Chiefs-colored everything. No disrespect to "Daylight", but maybe love is burning red after all.