Fans Think Taylor Swift's Ever-Changing Manicure Contains Her Latest Secret Message
Gotham/GC Images/Getty Images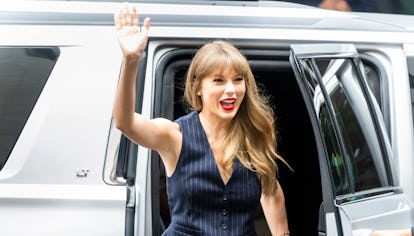 To know and love Taylor Swift is to accept the fact that she has extra baked right into her DNA strands. It's part of what fuels her drive to perform 3.5-hour shows, encrypt all of her social media posts with hidden meanings, and keep a steady stream of albums and projects rolling out for fans. It also means she's highly aesthetically meticulous. Just look at Taylor Swift's Eras nails, carefully shellacked in 10 different colors for her shows each weekend — not to mention all the manicures she's trying in between concerts. Yes, so committed is Swift to staying firmly on-theme that she's actually painting and re-painting her nails every few days to keep consistent with her on- and off-duty outfits. If her nail color fixation leaves you with more questions than answers, welcome to the club — plenty of fans think there's more to the whole thing than a pretty pastel mani.
First, get acquainted with Swift's standard on-stage manicure. Keeping in line with all the visual homages to her past eras (Swiftspeak for album cycles), each of her fingernails is painted with corresponding nail colors — a red nail for the album Red, for example.
Yes, she (and possibly a professional manicurist) go though the process ahead of her three shows nearly every weekend. But as fans and paparazzi zoom lenses have noticed, she immediately removes the Eras manicure post-show only to coat her nails in new colors right away. Look at this trendy, bright salmon shade spotted as she left an industry party with rumored beau Matty Healy in tow on May 15:
And the sky-blue shade from the infamous sneakpics that resulted in more than one Casa Cipriani membership revocation and virtual confirmation of her relationship with Healy — the pair were holding hands in other shots.
"Ah, 1989 nails!" one fan commented on the blue manicure, referencing the star's fifth album. Of course, this prompted many others to consider this a clue that 1989 will be her next Taylor's Version rerecording. But what does that say about the summery orange shade from May 15? Something entirely new, some speculate.
Or maybe, just maybe, removal of glittery nail polish colors are her version of ripping your work clothes off in favor of something with an elastic waistband the moment you get home. Let's just hope for the sake of her nail beds that she's on the non-acetone wave.