Taylor Swift Had To Bust Out The 'Folklore' Buns For Date Night With Travis Kelce
She's keeping cottagecore alive.
Gotham/Getty Images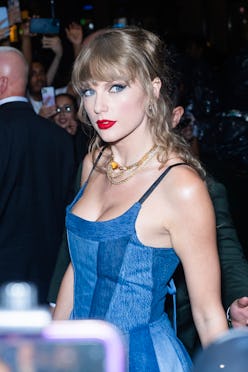 Doesn't it feel like the world's seen more of Taylor Swift in the past 30 days than the last three years combined? Between her Eras Tour (and movie) promotion, dinners with her girlfriends, and a string of appearances at NFL games, Swift's profile is higher than ever — and her off-duty looks have risen to the occasion, too. But even amid her whirlwind of glossy blowouts, glamorous updos, and natural curl sightings, there is one style in particular that she seems to save for only the biggest moments: Swift's braided buns.
A grown-up twist on pigtails, she's only been seen wearing the hairstyle a few times over the past several years. Most notably, they were seen on the cover of her Folklore album, which she homaged by wearing them again to the 2021 Grammys — where she accepted the year's top prize for that same record. This latest appearance, though, is one of the very few times she's worn them outside of work. The soft, ethereal buns act as an excellent foil to her '00s-adjacent, fall-friendly outfit for a night out with beau Travis Kelce. While her leather mini-skirt and platform boots are all edge, her hair and shimmery makeup infuse at least a little cottagecore coziness.
Part of the appeal is just how easy the look is to do at home with any hair texture and most lengths. Swift splits her pale blonde hair into two simple braids, then coils them up into tiny buns, pinning them to either side of her head. It's actually the same era-specific signature style Selena Gomez chose to recreate when she attended Swift's Eras Tour concert earlier this summer.
Robert Gauthier/Los Angeles Times/Getty Images
Now a braided hairstyle isn't exactly license to run wild with theories and speculation, but it is interesting just how infrequently she reaches for a look she seems to love so much. With just three sightings in as many years, it's hard not to analyze it all like a pattern. When she dropped Folklore, the did so knowing she had Evermore (a fellow braid album, just saying) in her back pocket. When she turned up at the 2021 Grammys, her first Taylor's Version release was just a month away — unbeknownst to fans.
So what's next, what's she plotting? With the 1989 re-record release just weeks away and Kelce on her arm, just know that anything could happen.