Taylor Swift's Wedding Guest Hairstyle Feels More Than A Little 'Folklore'
@taylorswift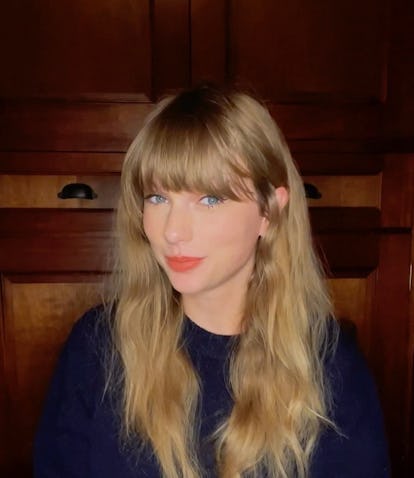 When music producer Jack Antonoff and Margaret Qualley tied the knot in New Jersey this weekend, they did so surrounded by their closest friends and family — and a thousands-strong crowd desperate for a glimpse at their A-list guests. Zoë Kravitz, Channing Tatum, Lana Del Rey, and Cara Delevingne and mother of the bride Andie MacDowell were all spotting trickling in and out of both the rehearsal dinner and the actual ceremony, but it's safe to say one attendee caused a little more ruckus than her peers. You would think Taylor Swift's accent braid and summery wedding guest outfits were religious relics by the crowd's straight-up fervent screaming — though, truth be told, her looks are extremely cute. The festivities might be stirring up a larger conversation about celebrity privacy and real-time location tracking, but for now, just indulge in the late-summer beauty inspiration Swift just delivered.
A sweet blend of comfy-cute and romantically dressy, both of Swift's wedding weekend looks — despite the overall price — felt very down-to-earth, the sort of hairstyles, outfits, and jewelry that an everyday civilian would actually wear to a close friend's special day. Swift wove a long accent braid into her straightened hair and wore it all weekend, pairing with some luminous cheek highlighter on the big day.
CREDIT T.JACKSON / BACKGRID
WavyPeter / SplashNews.com
For the rehearsal dinner the night before, she paired a two-piece Hill House set with correspondingly cottagecore bun, positioned at the nape of her neck and spiced-up with that baby braid snaking all the way back from her bangs.
What's interesting is Swift's newfound affinity for the accent braid. She's worn the look one or twice before in the past, but her current plaited piece has been a key part of her hairstyles four days in a row — before the wedding fun, she wore the baby braid to a recording session and out to dinner with Gigi Hadid and Ed Sheeran. The sidewalk outside Swift's go-to New York studio has become her de facto runway, using her arrivals and exits as the perfect spot to show off her summery street style.
If you're thinking that messy bun and baby braid combination feel a little Folklore-ian, you're not alone. Some (me) speculate that the tiny plait could be a special little tribute to her most acclaimed collaboration with Antonoff, whom she's described as family. After all, what's a Swift sighting without some easter egg theorizing?