Taylor Swift's Studio-Day Updo Is Built Around The Cutest Summer Hair Accessory
Robert Kamau/GC Images/Getty Images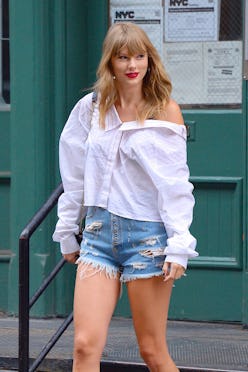 We may receive a portion of sales if you purchase a product through a link in this article.
Taylor Swift has mastered sleight of hand in every sense. There's the ever-puzzling way she always manages to emerge from the gym looking daisy-fresh, she wheels into her concert concealed in a fake cleaning cart, and she somehow, someway figured out wrapping all of her long, thick hair up in one little-bitty accessory. Yes, of course Swift's claw clip can hold all of her rib-length hair, but most intriguing (or many confounding?) aspect of the entire thing is the size of the barrette in question. While some out there — speaking from experience here — still struggle to wrangle long hair even into an XL-sized clip, her studio-day updo was fastened by a smaller, more elegantly-shaped version of the classic piece.
As Swift made her second recording studio visit of the week, she stuck with the neutral-toned, elevated basics she's been loving all summer long — accessories included. While the two-dimensional paparazzi pictures don't show the very back of her bangs-accented updo, one boots-on-the-ground TikTok from a Swiftie did, offering a great shot of the little white claw clip buried in her artfully messy twist. The Midnight's singer has a thing for resurrecting '90s trends, especially hair pieces like scrunchies, bejeweled barrettes, curved clips, and their classic clawed counterparts.
This iteration of the claw clip, though, is a little more modern — call it Taylor's version, if you will. It's much more squared-off with larger, curved grooves, and seems to be made out of a resin or acrylic. Combined, it makes the accessory look less like a revived throwback and more like something truly born of the 2020s. Similarly, she wore a snowy white butterfly-style claw clip in her Midnights Mayhem With Me TikTok series.
Swift seems to utilize a more casual approach to claw clip hairstyles, skipping the internet-beloved slicked buns in favor of a looser, intentionally-haphazard look. The key, though, is in the bright, clean color and sophisticated structure of the clips. To get her effortless vibe, pass over the 30-color bulk options and, instead, source one-off accessories that feel more unique in their shape and style. Just below, some Swift-inspired selections to get started.