Emma Roberts Instantly Coachella-fied Her Hair With A Simple Braid
She's ready for Weekend One.
Arnold Jerocki/Getty Images Entertainment/Getty Images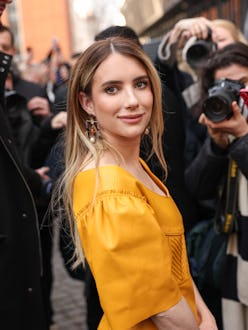 As fun and special as the winter holidays are, the true most wonderful time of the year is festival season. Maybe it's the all-day music, maybe it's the free pass to roll around in glitter and scream along to BLACKPINK with your closest friends, but Coachella's impending arrival seems to have even A-listers waiting with bated breath. Though Weekend One doesn't kick off until April 14, Emma Roberts' excitement manifested in a festival-perfect hairstyle debuted at her DSW Crown Vintage collaboration event. Emma Roberts' loose baby braids, placed all through her platinum blonde hair, adds a distinctly outdoors-y, festival-ready feel to her minimalist ensemble — and that's exactly how she planned it, too.
At the event celebrating her curated footwear collection with DSW's Crown Vintage line, Roberts shares that fun braids have been on her mind as festival season draws nearer. "Braids, I'm obsessed with," she tells TZR. "And I feel like every year when it gets closer to Coachella, I get more into braids." Against her freshly-colored shade of cool-toned blonde, the interspersed braids break up her soft curls with more texture, particularly around her face. The look was created by celebrity hairstylist Bridget Brager, who further emphasized the role of the texture within Roberts' style on her Instagram.
The similarity in tone between Roberts' hair color and complexion — both are pale, cool, and very luminous — just adds to the ethereal effect of her braids. But notably, these more relaxed braided pieces are much thinner, looser, and shorter than their '00s-style counterparts. By stopping the plait at Robert's chin, the braids are simply pops of texture and hidden details rather than the focus. Braids are always a popular choice for Coachella and other festivals, and for obvious reasons. Not only do they add an interesting element to even very straightforward looks, but it's a stylish way to keep the hair off of the face amid the desert dust and heat.
With just a week to go until Coachella, expect to see plenty more festival-ready looks pop up at all sorts of events.