If Euphoria Were Set In 1986, It Would Look Just Like Sydney Sweeney's Birthday Party — Hair & All
A blowout bash for the ages.
@glencocoforhair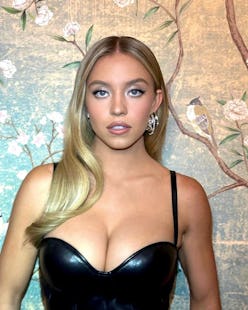 The following announcement will either thrill you beyond belief or strike a deep, dark fear in your heart: '80s beauty is back — or it's just about to be. And yes, that includes all the teased hair, the neon colors, those frosted, pearlescent finishes that makes everything seem at least a little glittery. They're returning with a vengeance, experts predict, which is only corroborated by celebrities and the looks they're trying out. A prime example? Sydney Sweeney's '80s hair at her own birthday party on Sept. 16, a fluffy, voluminous pile of tight curls and gravity-defying side-bangs that look straight out of a Cyndi Lauper video.
The theme of the evening was prom, which meant the star blew out her candles dressed in a fluffy pink gown and teased-out curls — all against a backdrop of disco balls, punch bowls, side-ponytails, and even some Robert Smith-inspired mall goths. In so many ways, photos from the event looked like stills from a version of Euphoria set in the mid-'80s. Even amid all the true-to-life details, Sweeney's lush mane of tight, hairspray'd curls steal the show. If industry predictions are accurate, expect to see plenty more hairstyles like it in the coming months.
The clues are actually everywhere — once you start to notice the '80s influence, it's hard to stop. Beauty and fashion brands like Vacation and Rich & Sporty have built so much of their aesthetics around the decade, while '80s-style luxury decor is having a moment among interior design fans. On the celebrity front, mullets have been spotted on Charlize Theron, Emma Watson, and Miley Cyrus, while Cardi B just brought out the big layered curls for a spot on Watch What Happens Live.
Then, of course, there's the Barbie movie factor. The doll's been around for nearly 70 years, but the film itself is squarely targeted at the generations who played with Barbie in the '80s and '90s — in fact, Sweeney's fluffed-up look would be right at home in that Barbieland dance sequence.
Bravo/NBCUniversal/Getty Images
To bring the maximalist curls to life, Sweeney turned to her good friend and closest collaborator, celebrity hairstylist Glen Oropeza. Together with her cupcake-style prom dress and pastel purple makeup, she's straight out of the high school cafeteria circa 1986. Only time can tell if the look will also end up synonymous with this chunk of the 2020s.