Mariah Carey's Larger-Than-Life Curls Bring Early '90s Beauty To TikTok
Kevin Winter/Getty Images Entertainment/Getty Images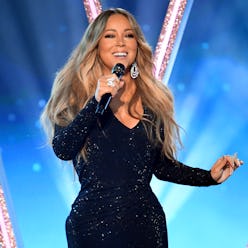 Living legend Mariah Carey once dubbed herself an elusive chanteuse, but her social media accounts are dedicated to showing intimate, personal looks at all of her most major moments. In between sweet clips of the kids at Easter, Mimi diving off a yacht for her birthday, and tons of behind-the-scenes glimpses at upcoming projects, Carey isn't afraid to get silly with a viral TikTok trend — especially if it's one she started. While her new, just-posted video is set to 2008's "Touch My Body", Carey's tight curls and low-slung jeans are straight out of the early '90s. Long, voluminous, and totally glossy in her signature shade of soft honey-bronde, the curls are both a refreshing choice and a sweet tribute to some of her most iconic (and formative) album eras.
From the moment the fun-filled TikTok surfaced, the Lambily's been on high alert. Sure, the video is a clever way to hop on a tailor-made viral moment, but what are the odds Carey called in a complete, top-notch glam team for hair, makeup, wardrobe, and filming just to make a TikTok? Take a closer look at Carey's perfectly-shaped curls and you'll notice the extra pieces of blonde hair extensions expertly blended in for added volume and length — and that's not to mention the ab-baring low-rise jeans and cropped denim halter top — and try to say this isn't part of something larger.
While Carey usually wears her waist-skimming hair straightened or curled into big, bouncy barrel waves, these tighter curls are her exact natural curl pattern straight out of her first several album cycles circa the early 1990s. Carey's first three studio releases all featured her thick, lush curls on the cover, and she wore them everywhere from live performances to major red carpets, like the Grammy Awards.
The sweetest part of the entire TikTok, though, are pop-up cameos by her 12-year-old twins, Roc and Roe, who share their mother's stunning natural curl pattern.
It's impossible to say if the five-octave wonder is working on her 16th studio album, but her ever-growing social presence is definitely helping fill the void in the meantime.