Celebrities Saved Their Best Beauty Looks Of The Year For The Cannes Red Carpet
And they're all right here.
Dominique Charriau/WireImage/Getty Images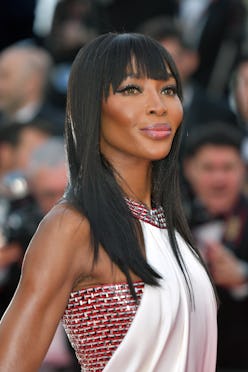 Celebrities likely juggle an overstuffed schedule while navigating the Cannes International Film Festival and its many, many related events, but they sure seem to be enjoying it. More than any other awards show or major ceremony, the hair and makeup at Cannes — not to mention the fashion — seem to revel in the confluence of personal style and white-hot trends. But do you know what actually makes the celeb-spotting at Cannes so elite? While other A-list occasions like the Oscars, for example, are one fleeting, formal red carpet moment sometimes followed by a cooler, more casual after-party, Cannes is two full, glorious weeks of premieres, panels, day events, sponsored parties, and black-tie galas all back-to-back — which means a much wider variety of looks to get inspired by.
Only half-way into the film fest so far, and already veteran superstars like Viola Davis, Jennifer Lawrence, and Michelle Yeoh are delivering polished takes on elevated classics. Meanwhile, edgier hairstyles by Dua Lipa, Helen Mirren and up-and-coming it-girl Iris Law (yes, daughter of Jude) are infusing the 76-year-old festival with sultry, spirited energy. Ahead, check out TZR's ever-growing roundup of the best hair, makeup, and nails of Cannes 2023, with new looks added throughout the entire festival.
Lily Gladstone
Hollywood's freshest face got the dewy-skin treatment ahead of the Killers Of The Flower Moon premiere on the Cannes red carpet, adding so much extra glow to Gladstone's already-luminous complexion. Celebrity makeup artist Nick Barose first prepped Gladstone for makeup with a selection of skin care products by Le Domaine and CurrentBody Skin facial tools, then got started with Eisenberg Paris makeup — her petal-pink lip color is the brand's Fusion Balm in shade Nacarat.
Naomi Campbell
Celebrity hairstylist Lorenzo Barcella continues his winning streak at Cannes with another standout moment for Campbell. This time, the pair played on a classic sleight of hand trick, attaching faux-bangs to Campbell's long, pin-straight hair. A reference to one of her signature styles, it's legitimately mesmerizing.
Irina Shayk
When Shayk goes for minimalism, she really commits — head to toe. Keeping in line with her nude nails and body-baring ensemble, the model opted for a "naked" eye makeup look courtesy of Tatyana Makarova, and gentle ear-tucked waves by Hos Hounkpatin.
Lily-Rose Depp
Even amid all the controversy surrounding The Idol, leave it to Depp to still serve at the show's Cannes premiere. For the big night, Depp leaned into an optical illusion (in more than one sense) with blue-brown color-changing eyeshadow and her signature waterline eyeliner.
Michelle Yeoh
Yeoh's inherent elegance elevates everything she touches — so does a gently voluminous brushed-back hairstyle, making this Cannes look next-level regal. Yeoh's shiny, part-less blowout comes courtesy of hairstylist Mara Roszak, while her fluttery lashes and dewy pink blush are the work of makeup artist Polly Osmond.
Jennifer Lawrence
A jaw-dropping homage to her look from her first-ever Oscars ceremony, Lawrence's extra-long hair eschews the layers trend taking over most of Hollywood at the moment. Without layers or bangs, though, her fresh, the impressive blend in her champagne blonde highlights, styled by Jennifer Yepez, can be fully appreciated.
Dua Lipa
Lipa's very long, piecey bangs might go down as the most recognizable Cannes beauty look of the year. Edgy, sultry, and spiked to match the strategic slits through her gown, it's a tossup if Lipa's Rio Sreedharan-styled bangs will catch on with the general public.
Salma Hayek
Commanding in a plunging, puff-sleeved plum gown, Hayek nailed an ideal hair-outfit drama balance by opting for a sculptural, looped updo on the Cannes red carpet. Styled by Jennifer Yepez, the bun's volume is unreal.
Gigi Hadid
A striking contrast to the cool tones in her platinum blonde hair, Hadid's coco-brown lip liner plays into the same color palette as her structured gown. Makeup artist Patrick Ta created Hadid's warm, summer friendly makeup for the festival — and fun fact, it's her first time at Cannes.
Natalie Portman
Sleek, sultry, and straight-up sparkling in pale blue sequins, Portman reflected her gown in her beauty choices with glossy, blown-out hair styled by Mara Roszak using RŌZ products. The perfect finishing touch? Her shimmery silver Dior eyeshadow applied by makeup artist Miwoo Kim.
Storm Reid
In a modern center-part with sweet, cascading curls by celebrity hairstylist Mitchell Cantrell, Reid is every bit the leading lady — made all the more radiant by a princess-style Prada gown and long Maybelline lashes by makeup artist Vincent Oquendo.
Cate Blanchett
Simultaneously playful and polish, Blanchett's red-carpet ponytail, styled by Nicola Clarke, depends on a deep side part to elevate it to premiere-worthy perfection.
Rosé
Celebrity hairstylist Lee Seon-Yeong performed the best sleight-of-hand with Rosé's carefully gelled microbangs — behind-the-scenes photos reveal they're actually clip-in pieces. Tying her entire pink-tinged look together in the rosy (of course) blush, applied by celebrity makeup artist Lee Myeong-Seon.
Catherine Zeta-Jones
Newsflash from on high: red eyeshadow is not just for goths anymore. Zeta-Jones played into the scarlet tones on her gown with matching eyeshadow, anchored by a deeper, more neutral lip shade. Celebrity makeup artist Mary Wiles created the look using Charlotte Tilbury products.
Elle Fanning
Keeping it classic with brushed-up brows and a brushed-back bun, Fanning stays firmly within her stunning aesthetic wheelhouse. Celebrity hairstylist Jenda worked on Fanning's elegant bun, while makeup artist Erin Ayanian Monroe applied L'Oréal Paris cosmetics.
Gemma Chan
Chan's high-set bun and fluttery fringe, styled with L'Oréal products, makes the single greatest case for a pre-summer bangs cut. The best part, though, is where her hair's long ends meet up with her softly winged eyeshadow.
Viola Davis
Radiant and regal in a glowing white gown, Davis is always a red carpet must-see. Celebrity hairstylist Jamika Wilson styled Davis' full, voluminous curls for the L'Oréal x Cannes party, while makeup artist Autumn Moultrie rimmed the star's eyes with shimmery eyeshadow in shades of purple.
Helen Mirren
It simply doesn't get cooler than Mirren's spray-on blue hair color, created using the L'Oréal Paris Colorista in Pastel Blue — perfectly complemented by her rosy pink makeup, also by the brand.
Brie Larson
Larson's already worn a few different look at Cannes 2023, including an amazing headband moment, but her deep side part at the Opening Ceremony, styled by Bryce Scarlett, is top-notch. Simultaneously, her glowy, complexion-focused makeup look was created by Nina Park using DECORTÉ products.
Iris Law
Make way for the newest celebrity scion it-girl. A spitting image of her father, Jude, Law's icy, platinum mixie cut, natural eyebrows, and vampy lipstick bring sultry edge to Cannes — along with her Saint Laurent gown.
This article was originally published on