How Did Cardi B Manage To Totally Transform This Polarizing Hair Color Trend?
@iamcardib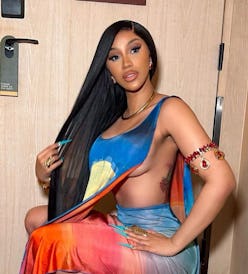 Cardi B's multi-year reign as Queen Of Summer is continuing through 2023 — as if anyone had a shred of doubt. In between working on her hotly-anticipated forthcoming album and keeping up with her myriad brand deals, Cardi always finds time to collaborate with her favorite female colleagues. Even better, she often does it while demonstrating many of the season's top fashion and beauty trends. In the brand-new music video for Latto's single, "Put It On Da Floor Again", Cardi B's chunky blonde highlights take one of the most polarizing hair crazes of the 2000s and transform it into something totally modern – and completely stunning.
In the video, Cardi wears a few different bold hair colors and styles (including a killer green hair moment that matches her "I Feel Like Britney Spears" tank top), but it's those honey-colored highlights that really stand out. The muted, golden-toned of the base color is perfectly tailored to her luminous skin undertones, with the thicker chunks of a lighter, sunnier blonde streaking through for added dimension. Those who remember the 2000s know that big highlights were the signature color technique of the era — but Cardi B's 2023 version is far more blended and natural-looking.
Though she too has several different costume changes through the music video, Latto's hair in most of the scenes and the single cover art coordinates with Cardi's highlights. Latto's long, wispy bangs are a similar shade, but more overtly warm-toned and golden, without those distinctive, block-style streaks. Together, it's impossible to look away from the glamorous pair.
The recent revival of all things aughts brought with it all sorts of old trends, including square-tip French manicures, side-bangs, and ultra-long hair extensions, but only the most daring, forward-thinking celebrities have tried out the chunky highlights trend. Lizzo pulled it off perfectly, as did Bella Hadid and Jennifer Lopez. But Cardi B's take — complete with her of-the-era shield-style sunglasses in the video and cover art — might be the best of the bunch. Something says she did not use one of those retro pull-though caps for the highlights, though.